---
Located in New York City, the world's first and foremost vertical metropolis, The Skyscraper Museum celebrates the City's rich architectural heritage and examines the historical forces and individuals that have shaped its successive skylines. Through exhibitions, programs and publications, the Museum explores tall buildings as objects of design, products of technology, sites of construction, investments in real estate, and places of work and residence. For a description of the gallery and for photos of the space, please visit our Photo Slideshows page.
SPECIAL CHRISTMAS AND NEW YEAR'S WEEK GALLERY SCHEDULE:
The gallery will be open Monday and Tuesday, December 22 & 23 and on December 29 & 30. On December 24, the gallery will close at 3:30.
We will be closed on Christmas and January 1.
All other gallery hours are normal: 12-6 PM, Wednesday-Sunday.
The Skyscraper Museum is located in lower Manhattan's Battery Park City at 39 Battery Place. Museum hours are 12-6 PM, Wednesday-Sunday.
General admission is $5, $2.50 for students and seniors. Click here for directions to the Museum.
Call 212.968.1961 for information on upcoming lectures, exhibitions, walking tours, and membership. Subscribe to our newsletter by emailing programs[at]skyscraper[dot]org.
CURRENT EXHIBITION
TIMES SQUARE, 1984: The Postmodern Moment
Times Square today is bright and crowded - a tourist mecca, entertainment district, retail powerhouse, and pedestrianized precinct that matches in vitality, both economic and populist, any decade of its storied past. But thirty years ago, the future of Times Square was in limbo - caught between a series of false starts at clean-slate urban renewal by the City and State and an emerging philosophy of urbanism that favored history, preservationist values, electric signs and semiotics, and delirious diversity. TIMES SQUARE, 1984 examines this decisive moment and the resulting transformation of the "Crossroads of the World."
Click here for details. Click here to view the virtual exhibition.
Click here for related programs.
Read praise of the show in The New York Times.
Midtown Manhattan Wouldn't Be the Same
'Times Square, 1984,' at the Skyscraper Museum

PAST EXHIBITIONS

Click here to view past exhibitions including SKY HIGH & the logic of luxury.

UPCOMING PROGRAMS


Wednesday, January 7, 2014 3:00 pm

Curator's Tour
Director and Curator Carol Willis will lead a Curator's Tour on the current exhibition TIMES SQUARE, 1984
Curators tours are free with admission, no RSVP required.
---
Tuesday, January 13, 2015 6:30-8 pm

David Smiley Book Talk
Pedestrian Modern: Shopping and American Architecture, 1925-1956
University of Minnesota Press 2013
In Pedestrian Modern, David Smiley reveals how the design for places of consumption—stores and shopping centers—informed emerging modernist tenets. Tracing the history of architecture's relationship with retail environments during a time of significant transformation in urban centers and in open suburban landscapes, Pedestrian Modern expands and qualifies the making of American modernism.
David Smiley is an architect who teaches architectural and urban theory, design and practice at the Graduate School of Architecture Planning and Preservation. Dr. Smiley has written on contemporary urban and suburban issues, large-scale urban interventions, the re-use of shopping malls and the recent history of urban planning and urban design in the Journal of Architectural Education, Perspecta, the Journal of Urban History and the Journal. He has taught at Yale University's School of Architecture, Washington University in St. Louis, and Texas A & M University.
All guests must RSVP to programs[at]skyscraper[dot]org to assure admittance to the event. Please be aware that reservation priority is given to Members of The Skyscraper Museum. Not a member? Become a Museum member today!


Tuesday, February 24, 2015 6:30-8 pm

Vicki Ward Book Talk
The LIAR'S BALL:THE EXTRAORDINARY SAGA OF HOW ONE BUILDING BROKE THE WORLD'S TOUGHEST TYCOONS
Wiley 2014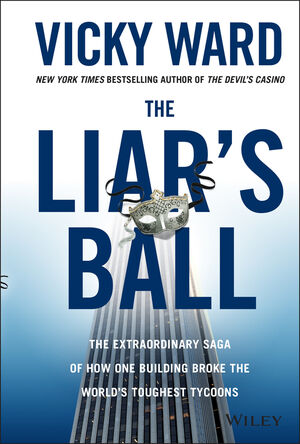 The Liar's Ball is about the desperate scramble that ensued when the world's most expensive building went on the auction block. The iconic GM Building brought out the best and worst in New York's real estate royalty, and led a few of them to ruin.
A story of naked, unregulated capitalism, of the sometimes bloody free-for all of the free market, The Liars Ball is tale of brilliant and enormously ambitious billionaires fighting bare-knuckled to get what they want. And they all wanted the GM Building. Through over 200 interviews with real estate's best and brightest—Donald Trump, Harry Macklowe, Samuel Zell, Mort Zuckerman and many more—Ward exposes the lies and schemes and insecurities behind the deals made by some of the world's biggest egos.
Vicky Ward is the New York-based, British-born author of the New York Times bestseller The Devil's Casino: Friendship, Betrayal and the High-Stakes Games Played Inside Lehman Brothers (Wiley, 2010). A former contributing editor to Vanity Fair for 11 years, she is the former executive editor of Talk and the former news features editor of the New York Post. She holds a master's in English literature from Cambridge University.
All guests must RSVP to programs[at]skyscraper[dot]org to assure admittance to the event. Please be aware that reservation priority is given to Members of The Skyscraper Museum. Not a member? Become a Museum member today!



UPCOMING FAMILY PROGRAMS

BUILD YOUR OWN THEATER
Januar 3, 2015
10:30 - 11:45 AM
After a tour of the museum's exhibition TIMES SQUARE 1984, kids will use different materials to design and construct their very own theater like the historic showplaces of Broadway and 42nd Street. In this hands-on experience kids will learn about the architecture of Times Square yesterday and today, then get to build their own design! Ages 5+


HARD HAT AREA: INTRODUCTION TO CONSTRUCTION
January 17, 2015
10:30 - 11:45 AM
Young learners will be introduced to the basics of skyscraper construction through a group reading of Susan L. Roth's picture book Hard Hat Area. After the story, the young architects will design their own skyscraper. Maybe one day their design will make it to the construction site! Ages 2+


Click here for more upcoming Family Programs.


---
JOIN OR MAKE A DONATION TO THE SKYSCRAPER MUSEUM
Follow us on Twitter!

Like us on Facebook!


---
Do you want to hear about new programs and events at the museum? Sign up for our newsletter!
The Museum is a participating member of the Downtown Culture Pass. For more information, click here.
All galleries and facilities are wheelchair accessible.
Find the Skyscraper Museum in the FREE lower Manhattan CultureNOW iPhone app! Spanning Houston St. to the Harbor, the app includes more than 1,000 art, cultural, architectural, and historical sites, as well as nearly 80 podcasts and six self-guided tours.