Education
Devoted to the study of high-rise building, past, present, and future, the Museum celebrates the city's rich architectural heritage and examines the historical forces and individuals that have shaped Its successive skylines. With guided instruction, students and teachers can relate to tall buildings as objects of design, products of technology, sites of construction, investments in real estate and places of work and residence. The Museum's collection of archival photographs and architectural models inform and guide the educational experience.

The Museum is dedicated to progressive museum education and offers school visits which promote object-based inquiry and active exploration of our space. Using the New York State Learning Standards as a guide, lesson plans and instructional materials are designed to be academically rigorous and promote higher-order thinking. Our staff is trained to promote close looking and critical thinking during tours tailored for the curricular needs of teachers in the NYC Public School system.
Education at the Museum also extends to NYC teachers. The Museum offers professional development opportunities, in addition to meet & greet events held at the Battery Park City gallery.
Contact [email protected] to be put on our educators newsletter or call 212.945.6324 with further questions.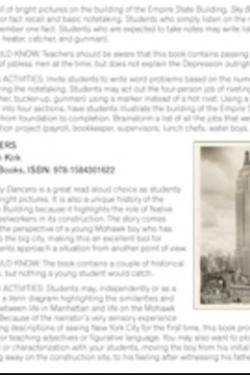 Activities
Green Resources
Collected 
here 
are highlights from the Museum's extensive archive of green multimedia. Classes can explore this material as a group, or individually – either as enrichment or as part of a lesson. Students should notice the changes in building that is leading to more environmentally friendly cities, and consider what green innovations they see in their own lives.
Recommended Reading (K-12)
Books selected by The Skyscraper Museum enhance and enrich student learning about skyscrapers, complete with suggested activities.
Students learn about the real, vertical race to the top of the Empire State Building and then use a chart of race results to solve an array of challenging mathematics problems. This engaging activity can be used in a single class period or a take-home activity.
Junior High Level Document-Based Question
The documents in this DBQ vary in their level of difficulty, but prompt the students to write an essay about the Empire State Building.
Continue reading
"Activities"
…