The book talks and lectures below are held at The Skyscraper Museum from 6:30-8 pm and are free of charge, except when noted. The gallery and exhibition are open for viewing from 6 pm. To assure admittance, guests must either use the RSVP form on this site or send an email to [email protected] with the name of the program you would like to attend.
Please be aware that reservation priority is given to Members and employees of Corporate Members of The Skyscraper Museum. Not a member? Become a Museum member today!
Book Talks continue to be presented as webinars through the fall. Past lectures are posted on our website and YouTube channel for full online access. Curator's tours are held in-person in the gallery.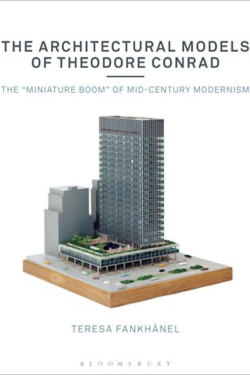 RSVP
Tue, Dec 7, 2021 at 6:00 PM
In her new book The Architectural Models of Theodore Conrad, historian and curator Teresa Fankhänel offers an alternative history of American modern architecture, highlighting the often-overlooked influence of architectural models and their makers. Fankhänel focuses on the work of Theodore Conrad (1910-1994), the most prominent and prolific American architectural model-maker of the 20th century, whose innovative work was instrumental in the design and realization of many icons of American Modernism, from the Rockefeller Center to Lever House and the Seagram Building. Conrad revolutionized the production of architectural models and became an entrepreneur. Fankhänel's research is based on the recent discovery of his fully-preserved private archive-models, photos, letters, business files, and drawings.
In praise of her book, Barry Bergdoll writes: "Fankhänel pulls back the curtain in the theater of American modernist architecture to reveal the behind the scenes contributions of the star performer of a novel career path: the professional model maker. Theodore Conrad not only made models, he helped make careers with miniatures that could win over clients, dazzle exhibition goers, and sit for camera portraits that would travel the world in newspaper and magazine illustrations. A glimpse behind the scenes offers a whole new vantage point on the culture of mid-20th century architecture at nearly every scale."
Teresa Fankhänel is a curator at the Architekturmuseum der TUM in Munich, Germany.