The book talks and lectures below are held at The Skyscraper Museum from 6:30-8 pm and are free of charge, except when noted. The gallery and exhibition are open for viewing from 6 pm. To assure admittance, guests must either use the RSVP form on this site or send an email to [email protected] with the name of the program you would like to attend.
Please be aware that reservation priority is given to Members and employees of Corporate Members of The Skyscraper Museum. Not a member? Become a Museum member today!
Book Talks continue to be presented as webinars. Past lectures are posted on our website and YouTube channel for full online access. Curator's tours are held in-person in the gallery.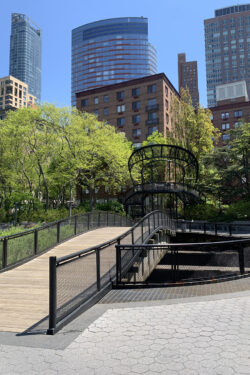 RSVP
Thu, Jun 9, 2022 at 4:00 PM
Tour 1 on June 9 at 4pm, which will be repeated on June 24, explores Battery Park City's southern district, which is home to the Skyscraper Museum and includes some of BPC's earliest landscapes and infrastructure, as well as the residential enclaves built in the 1990s that followed the 1979 Cooper Eckstut Master Plan. We will visit historic Pier A, Wagner Park, and South Cove, as well as the green spaces that connect to the Esplanade, the first waterfront park in New York since the Brooklyn Heights Esplanade in 1951, and learn about the developing Resilience Action Plan of BPCA.
This tour will meet at The Skyscraper Museum, 39 Battery Pl.