Teachers Tools
Tower Tube
As part of a grant-funded educational initiative, The Skyscraper Museum has published a teaching toolkit called Tower Tube. This FREE resource for New York City educators provides teachers with 14 enlarged images from the Museum's collection and friendly user-guide.
The Tower Tube is a tool kit for New York City teachers designed to enhance The Skyscraper Museum's exhibitions and programs. The primary source materials and activity guide included will help teachers prepare students in NYC for a museum tour. In addition to serving as pre-and post visit materials, the Tower Tube supports classroom instruction on the following social studies concepts and themes:
• New York City history
• Skyscrapers and the development of the urban environment
• Community and neighborhood exploration
The Tower Tube holds a collection of historic images showing New York City skyscrapers, streets, and skylines. These resources – including PHOTOGRAPHS, DRAWINGS, and MAPS – are just a few of the museum's rare artifacts that tell the story of skyscrapers and their unique place in the history and life of cities.
The Tower Tube Includes:
• 14 enlarged images from The Skyscraper Museum collection
• User manual with comprehensive information about each resource
• Teaching strategies for object-based inquiry
• Suggested activities for K-6 lessons and Secondary School activities
• Connections to New York State Regents Exam requirements and Learning Standards in Social Studies
Click here for a preview of the K-6 Tower Tube User's Guide.
Click here for a preview of the 7-12 Tower Tube User's Guide.
The Skyscraper Museum thanks Chris Esteban and A. Esteban & Company for pro bono printing services for more than a decade of free Tower Tubes.
---
Lesson Plans & Activities (DBQs)
The Museum's Education department has prepared several lesson plans and supplemental worksheets for students as they prepare for a visit or extend learning when back in the classroom.
Contribute to our Education initiatives via PayPal!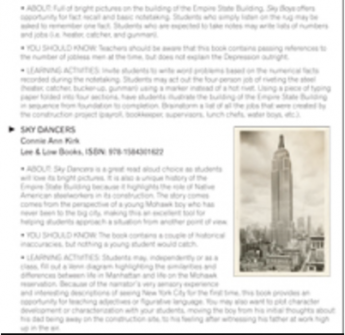 Activities
Green Resources
Collected 
here 
are highlights from the Museum's extensive archive of green multimedia. Classes can explore this material as a group, or individually – either as enrichment or as part of a lesson. Students should notice the changes in building that is leading to more environmentally friendly cities, and consider what green innovations they see in their own lives.
Recommended Reading (K-12)
Books selected by The Skyscraper Museum enhance and enrich student learning about skyscrapers, complete with suggested activities.
Students learn about the real, vertical race to the top of the Empire State Building and then use a chart of race results to solve an array of challenging mathematics problems. This engaging activity can be used in a single class period or a take-home activity.
Junior High Level Document-Based Question
The documents in this DBQ vary in their level of difficulty, but prompt the students to write an essay about the Empire State Building.
Continue reading
"Activities"
…