In Situ: The Modern Concrete Skyscraper
Skyscraper histories often treat the development and evolution of the skeletal steel frame as the very definition of the modern high-rise. Yet the story of steel leaves out what has been, arguably, the most important material to tall building construction over the past 100 years: reinforced concrete.
Concrete's plasticity and its monolithic nature have allowed a wide variety of architectural forms and engineering approaches. From the pioneering Ingalls Building of 1905 in Cincinnati, through the 1960s experiments with tube construction in Chicago, to the "buttressed core" of the Burj Khalifa, the world's tallest building, concrete's monolithic behavior, adaptability to a wide range of forms, and low
material cost have pushed the development and application ofconcrete toward its current global status as the material of choice for high-rise structures.
In preparation for the Fall 2023 exhibition In Situ: The Modern Concrete Skyscraper, the Museum is launching an evolving lecture series that will examine key experiments in concrete construction. The series examines a range of paradigmatic concrete skyscrapers throughout history, showing how the material's unique structural properties and its versatile nature have inspired designers to create radically new forms and to push skyscraper engineering to its current limits.
SCHEDULE
Click on the WEEK schedule below to watch

videos

of past lectures: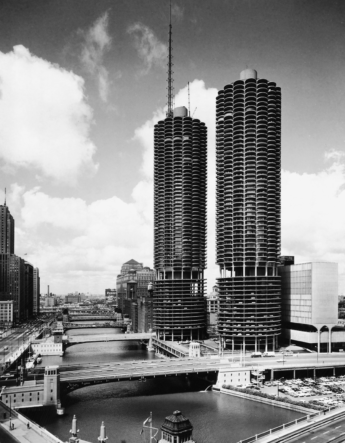 Intended to spark a renaissance in downtown living, Bertrand Goldberg's design relied on concrete's formal agility to achieve a pioneering example of mixed-use urbanism, combining commercial, residential, and retail functions within its cylindrical towers and expressive plaza buildings. Relying on techniques borrowed from the Midwest's long tradition of slip-form grain elevator construction and on innovative formwork systems developed by the contractor, Marina City remains one of the city's most notable and recognizable developments—and a foil to Chicago's ubiquitous steel-framed boxes.
Our series begins with a talk by architect Geoffrey Goldberg on the remarkable pair of 61-story cylindrical towers completed in 1964. Goldberg will describe how that city's famous twin apartment towers used concrete toward important social and political ends in the early 1960s. The program will be introduced by Thomas Leslie, guest-curator for the exhibition In Situ.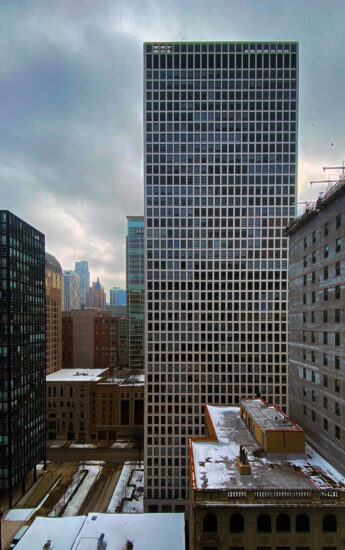 Tuesday, June 27, 2023
Bill Baker (bio) and Thomas Leslie (bio)
Chicago's extensive history of steel skyscrapers conceals the city's important innovations in concrete. Since the early 1900s, architects, engineers, and builders in Chicago explored concrete's formal and structural versatility, leading to important developments in formwork, structural concepts, and material science. Bill Baker, emeritus partner at SOM, will discuss this history and the importance of one building in particular: Chestnut-DeWitt, an apartment tower from the early 1960s designed by Bruce Graham and Fazlur Khan, of SOM, that pioneered the tube structure in concrete, an idea that would later form the basis for steel towers such as Sears and John Hancock. He will be joined in conversation by Thomas Leslie, Professor of Architecture at the University of Illinois Urbana-Champaign and author of Chicago Skyscrapers, 1934-1986.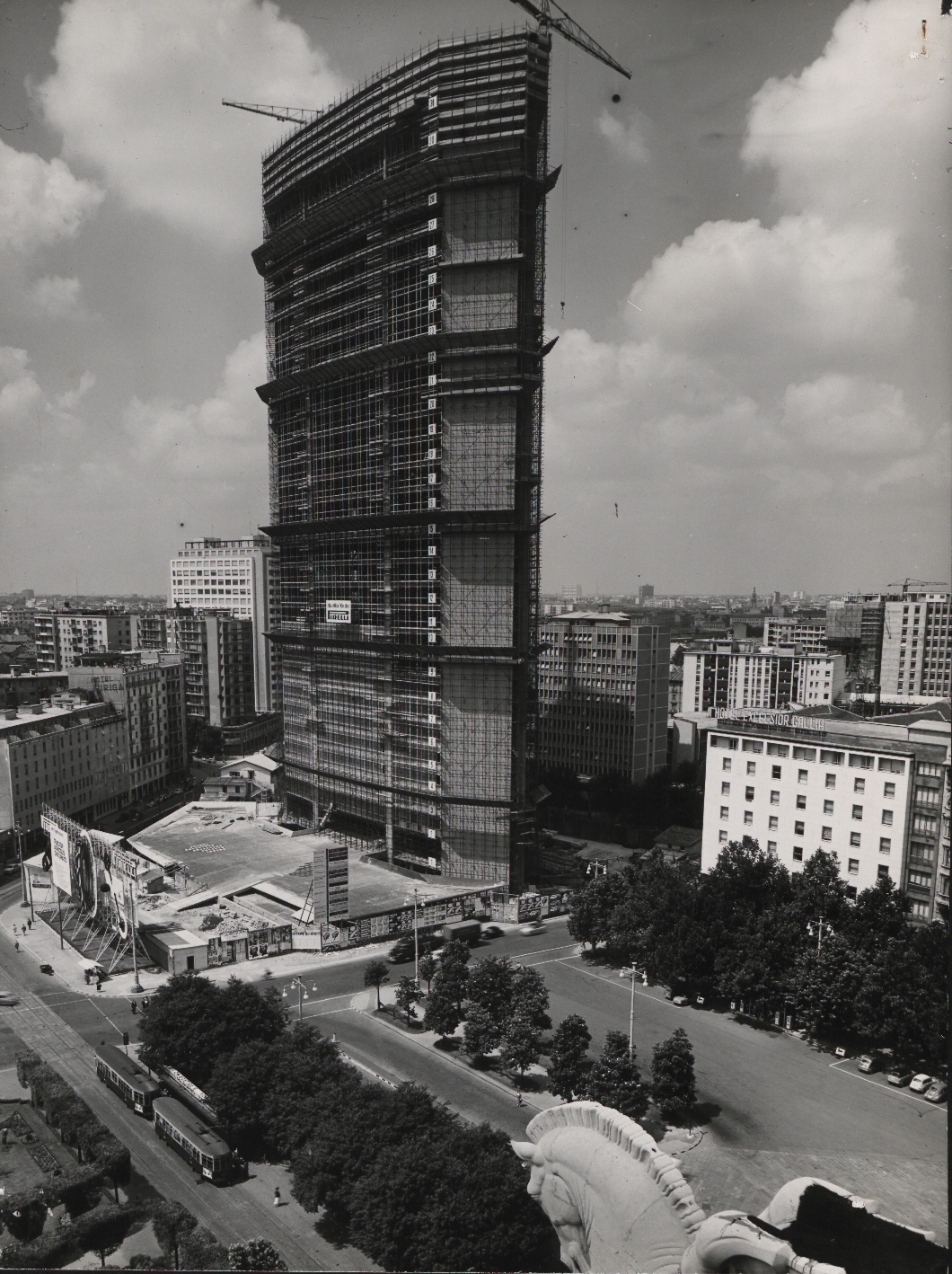 Wednesday, July 26, 2023
Marko Pogacnik (bio) and Thomas Leslie (bio)
Completed in 1960, Milan's Pirelli Tower, or Grattacielo Pirelli, was the tallest building in the Northern Italian city. Designed by the leading Italian modernist Giò Ponti in collaboration with the renowned structural engineer Pier Luigi Nervi, the Pirellone, or "Big Pirelli," was constructed of concrete, like nearly all Italian and European high-rises. Join us on July 26 at 4pm ET (2 hours earlier than our usual start time) for a talk by Marko Pogacnik, a professor at the University Iuav Venezia, on the Grattacielo Pirelli and the postwar Italian skyscraper. As Pogacnik will illustrate, the war-ravaged city of Milan in the 1950s witnessed a strong desire for urban renewal, manifested in the construction of a series of tall buildings: Torre Breda 1950-55; Torre Velasca 1955-58; and Torre Galfa 1956-59. At 32 stories and 127m/417 ft., the outstanding building of this postwar boom in both height and artistic achievement was the Pirelli Tower. In it, architect Giò Ponti and structural engineer Pier Luigi Nervi, with Arturo Danusso, sought to establish a distinctive Made-in-Italy skyscraper that abandoned the standard American approach of the steel frame in favor of the use of reinforced concrete in the form of heavy partitions and expressive structure.
Professor Pogacnik will illustrate the modernist principles propounded by Giò Ponti and the inspired collaboration with Nervi and Danusso. After his presentation, he will converse with Tom Leslie, author of Beauty's Rigor: Patterns of Production in the Work of Pier Luigi Nervi (2017).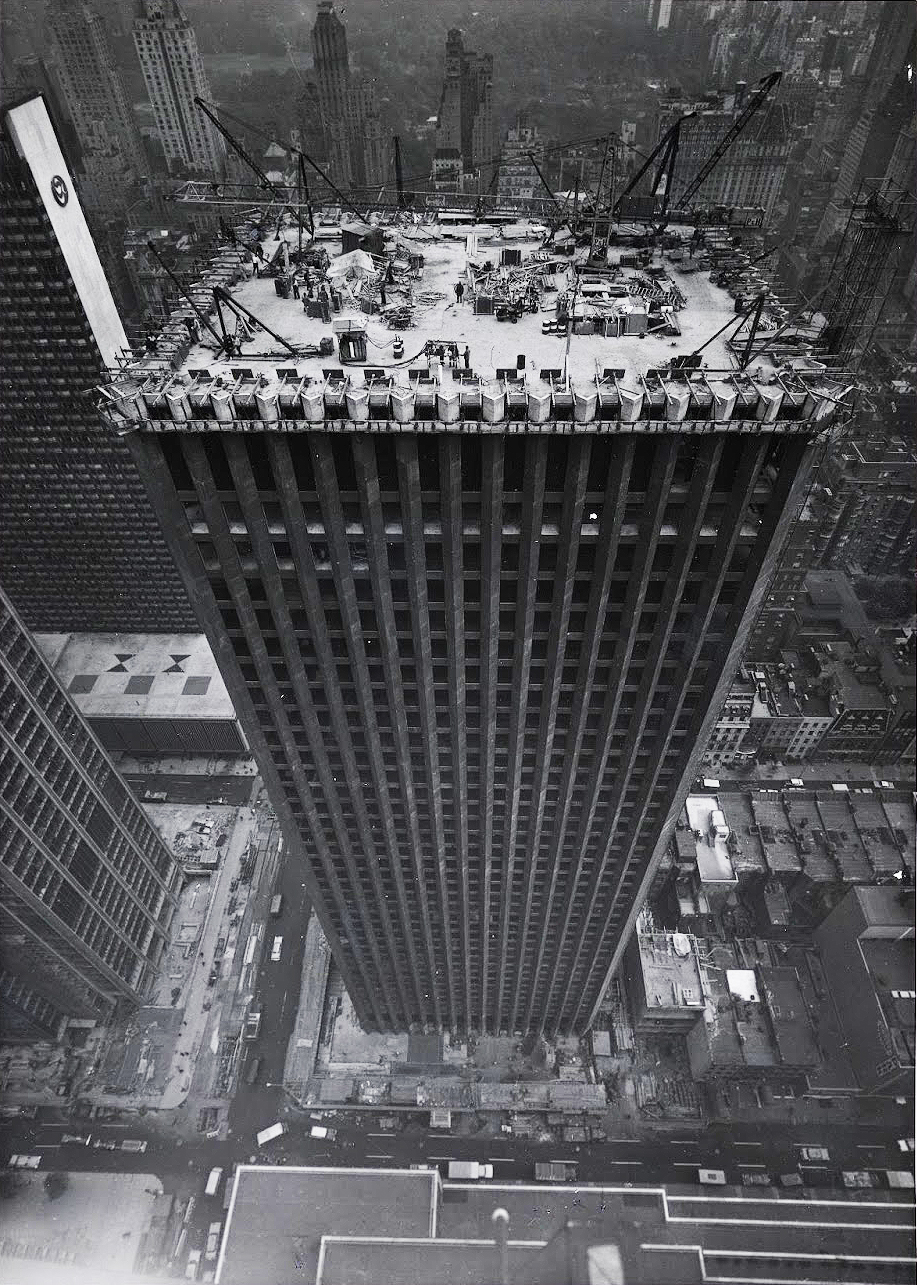 Tuesday, August 15, 2023
Matthys Levy (bio)
Designed in 1960 and completed in 1965, the CBS corporate headquarters, known as Black Rock, was New York's first concrete office tower. Architect Eero Saarinen envisioned a sober granite-clad monolith – rising from a sunken plaza on a full Midtown block on Sixth Ave. from 52nd to 53rd streets – a form that contradicted the modernist paradigm of the gleaming glass boxes of Park Avenue. The engineer Paul Weidlinger likewise defied the standard approach of steel-frame construction and proposed a structure of reinforced-concrete columns, based on his experience in Washington DC and his background in France and Bolivia.
Matthys Levy, who as a young engineer worked with Weidlinger on Black Rock and later became a founder of WAI, Consulting Engineers, will discuss their work on this unique skyscraper and compare it to contemporary towers in New York and other US cities.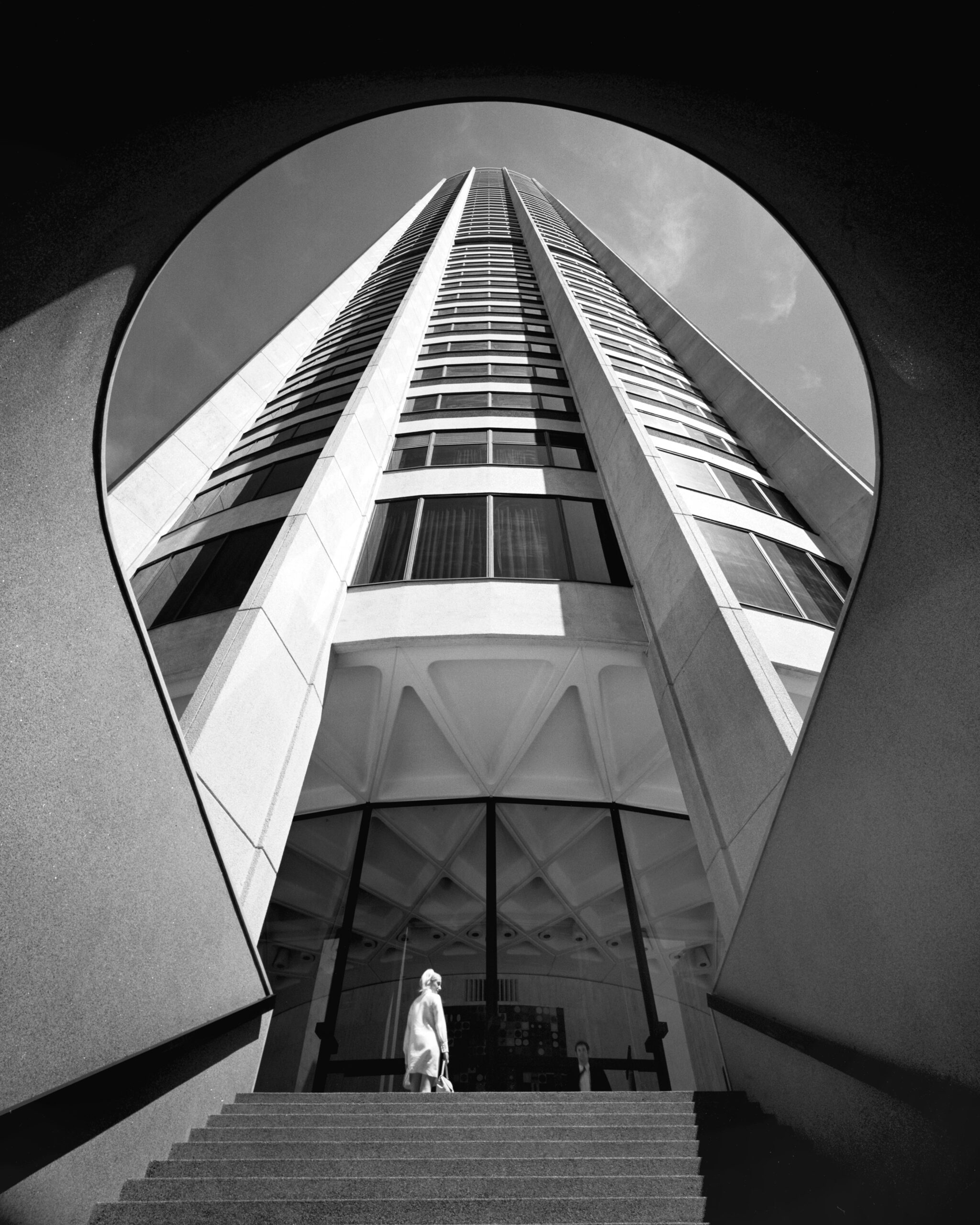 Tuesday, September 5, 2023
Vladimir Belogolovsky (bio)
Completed in 1967, six years before Jørn Utzon's Sydney Opera House, Australia Square was the first truly modern skyscraper on the continent and, arguably, the world's tallest lightweight concrete building. The 50-story cylindrical tower once stood alone as the focal point of a full city-block development in Central Sydney and with a popular plaza that made the complex the first successful large-scale commercial project in Australia. Vienna-born Emigré architect Harry Seidler (1923-2006) brought his Harvard GSD and Black Mountain College training and experience in the offices of Marcel Breuer and Oscar Niemeier to his adoptive Australia where he became the country's leading postwar modernist. Australia Square also began Seidler's creative collaboration with Italian structural engineer Pier Luigi Nervi, with whom he worked on a number of large projects.
Vladimir Belogolovsky, author of Harry Seidler: LifeWork (Rizzoli, 2014) and curator of Harry Seidler: Painting Toward Architecture will discuss Australia Square's design and construction principles and inherent circular geometry, placing Seidler's first iconic tower in the context of other key projects with similar concrete technology and geometric principles. After his talk, he will be joinmed in conversation by Tom Leslie, author of Beauty's Rigor: Patterns of Production in the Work of Pier Luigi Nervi (2017).
Speaker Bios
Bill Baker joined SOM in 1981, led the firm's structural engineering practice for over twenty years, and is now a consulting partner. He is best known for the design of the "buttressed core" structural system for the Burj Khalifa in Dubai, the world's tallest manmade structure. Active with numerous professional organizations and institutions of higher learning, Baker has received many honors, including three honorary doctorates. He is a Fellow of both the ASCE and the IStructE, a member of the National Academy of Engineering (United States), and an International Fellow of the Royal Academy of Engineering (United Kingdom). Recently he has been splitting his time between Chicago and the UK as a Visiting Professor at the University of Cambridge.
Vladimir Belogolovsky, curator and critic, has produced over 50 international exhibitions, including a world tour of Harry Seidler: Painting Toward Architecture (32 cities in 20 countries, 2012-23), Architects' Voices Series, Emilio Ambasz: Architecture Toward Nature, GreenHouse, and exhibitions at the Venice Architecture Biennale. Educated in Ukraine and the US, since 2010 he has been heading his New York-based nonprofit Curatorial Project. Belogolovsky writes for ArchDaily, Arquitectura Viva, AZURE, Architect's Newspaper, STIRworld, and World-Architects. His books include Harry Seidler: LifeWork, China Dialogues, Imagine Buildings Floating Like Clouds, Conversations with Architects, Soviet Modernism: 1955-1985, and Architectural Guides on New York and Chicago. He taught design studio at Tsinghua University in Beijing in 2018-19 and has lectured at universities and museums in more than thirty countries.
Geoffrey Goldberg has practiced for more than 30 years in Chicago as an architect and urban designer. Along with his own practice, he has taught architectural design and theory at the University of Illinois at Chicago. The son of architect Bertrand Goldberg, Geoff is a native Chicagoan. He received a B.A. in Political Science from the University of Chicago ('77), and an M.Arch. from Harvard University.
Thomas Leslie is Professor of Architecture at the University of Illinois Urbana-Champaign where he researches the integration of building sciences and arts, both historically and in contemporary practice. He is the author of Chicago Skyscrapers, 1871-1934 and its sequel Chicago Skyscrapers, 1934-1986 (Champaign: University of Illinois Press, 2013 and 2023). He is also the author of Beauty's Rigor: Patterns of Production in the Work of Pier Luigi Nervi (University of Illinois Press, 2017).
Matthys Levy – a founder of WAI, Consulting Engineers, which in 2015 became a part of Thornton Tomasetti – served as structural design engineer for hundreds of building and bridge projects. Among them are the Rose Center for Earth and Space, the Javits Convention Center, and the Marriott Marquis Hotel, all in New York City; the Georgia Dome in Atlanta; La Plata Stadium in Argentina; and the World War II Museum in New Orleans. Levy is author of a series of classic books on structural engineering: Why the Wind Blows: a History of Weather and Global Warming and co-author with Mario Salvadori of Why Buildings Fall Down; Structural Design in Architecture; Earthquakes, Volcanoes, & Tsunamis; and Engineering the City: How Infrastructure Works, with Richard Panchyk.
Marko Pogacnik is Full Professor at the University Iuav Venezia. He has investigated the links between Engineering and Architecture, one of his main scientific interests, in the works of: Gottfried Semper, Mies van der Rohe, Le Corbusier, Adalberto Libera, and Carlo Scarpa. He was Visiting Professor at the University Innsbruck, TU Dortmund, and TU Kaiserslautern, among others.
Carol Willis is the founder, director, and curator of The Skyscraper Museum. She is the author of Form Follows Finance: Skyscrapers and Skylines in New York and Chicago (Princeton Architectural Press, 1995), among other publications. An Adjunct Associate Professor of Urban Studies at Columbia University's GSAPP, she teaches in the program Shape of Two Cities: New York and Paris.
HOW TO REGISTER
Members receive priority for reserved spots and can register for the entire series or individual programs by emailing [email protected].
If you are not a member of The Skyscraper Museum, you must register for each program separately by clicking the RSVP button on the individual lecture's page, which forwards you to Eventbrite. You will receive the Zoom link upon reserving your FREE ticket on Eventbrite.
Want to become a member? Click here!