The Museum's Education department has prepared several lesson plans and supplemental worksheets for students as they prepare for a visit or extend learning when back in the classroom.
Lesson 1: What is a Skyscraper?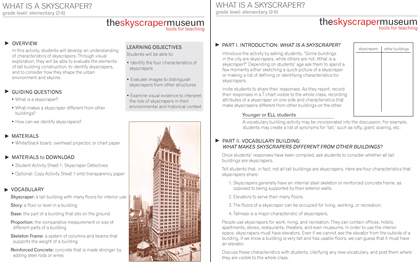 Students inductively discover the characteristics of skyscrapers as they complete a "Skyscraper Detectives" activity that invites them to examine an array of the Museum's archival images.
[DOWNLOAD LESSON] [DOWNLOAD ACTIVITY]
---
Lesson 2: Designing a Skyscraper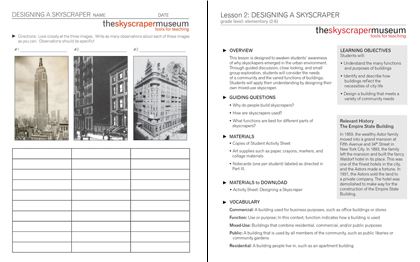 Students examine archival photographs of the Empire State Building site and explore its construction. Through analysis of primary source documents, students develop a sense of the scope of skyscraper construction.
[DOWNLOAD LESSON] [DOWNLOAD ACTIVITY 1]
---
Lesson 3: Building a Skyscraper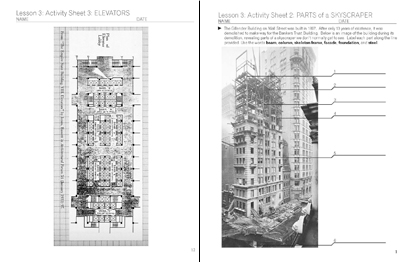 A variety of exploration stations allow students to explore principles crucial to skyscraper construction. They concurrently learn the terminology and parts of a skyscraper, and practice using these terms with images.
[DOWNLOAD LOWER ELEMENTARY LESSON]
[DOWNLOAD UPPER ELEMENTARY LESSON]
[DOWNLOAD ACTIVITY 1] [DOWNLOAD ACTIVITY 2] [DOWNLOAD ACTIVITY 3]
[DOWNLOAD SKYSCRAPER PHOTOGRAPH MASTER]
---
Lesson 4: Changes in a City over Time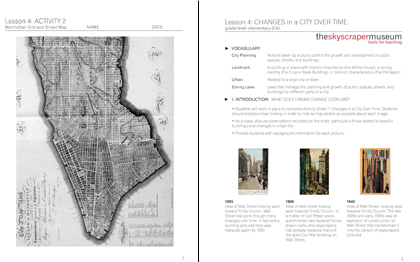 Students practice close looking skills using images of the Manhattan skyline from three different time periods. They infer the likely changes that transpire in a city over time, and create their own imagined skyline from a time period either in the future or the past.
[DOWNLOAD LESSON] [DOWNLOAD ACTIVITY 1] [DOWNLOAD ACTIVITY 2] [DOWNLOAD HISTORIC NYC SKYLINES]