Green Buildings
In the Museum's Garden City I Mega City exhibit, we explored how design can tackle global warming by focusing on the work of the Singapore-based architectural firm WOHA. Founded in 1994 in the Malaysian city-state of Singapore by the partners Wong Mun Summ and Richard Hassell, WOHA has been a pioneer in incorporating nature into their buildings to make them more sustainable and beautiful. Below, check out some of WOHA's green projects and a New York City skyscraper now under construction, called The Spiral.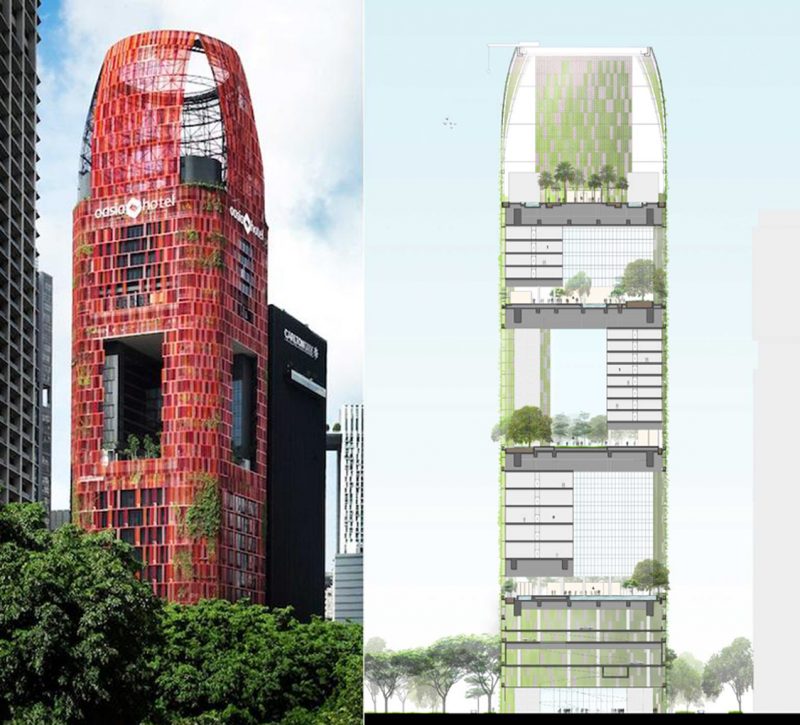 Oasia Downtown, Singapore
Responding to Singapore's equatorial climate and dense urban conditions, WOHA designed the high-rise hotel Oasia to incorporate nature in both its large, multi-story interior courtyards and in a living, green facade.
FOR MORE WOHA PROJECTS, VISIT:

The tower features three stacked "Breezeway Atria" surrounded by L-shaped blocks of hotel rooms and offices. Each segment is landscaped and treated as an internal veranda. Landscaping is also vertical, In contrast to popular glass curtain-wall skyscrapers in the city, this building's facade is a perforated metal screen that creates a permeable wall for climbing plants to turn the red tower green with foliage.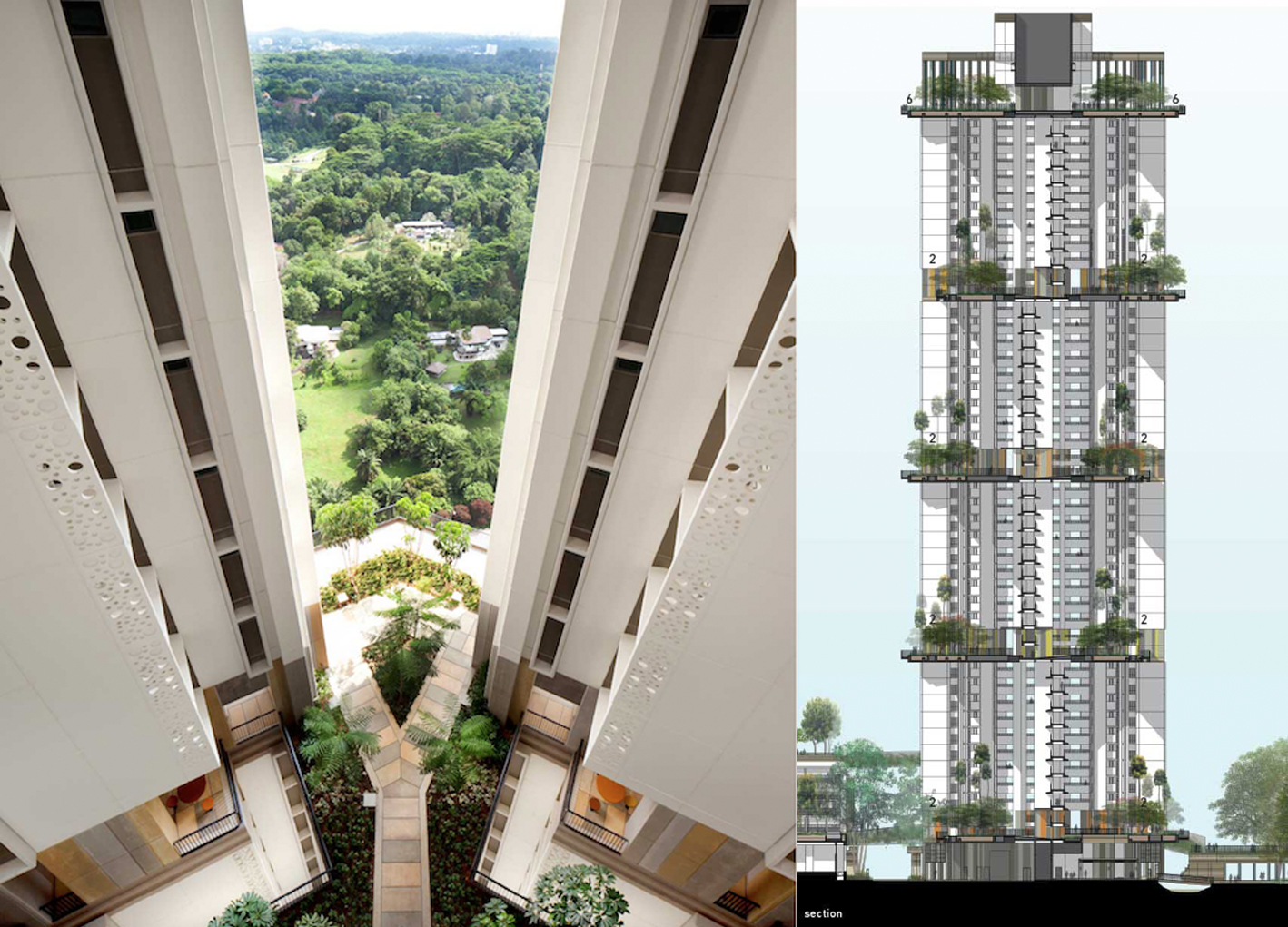 WOHA's public housing project [email protected] is a public housing project that addresses the themes of community and sustainability. Three 47-storey towers are designed around 'Breezeway Atria' that are cooled and ventilated by natural means of creating breezes by air flow in shaded areas.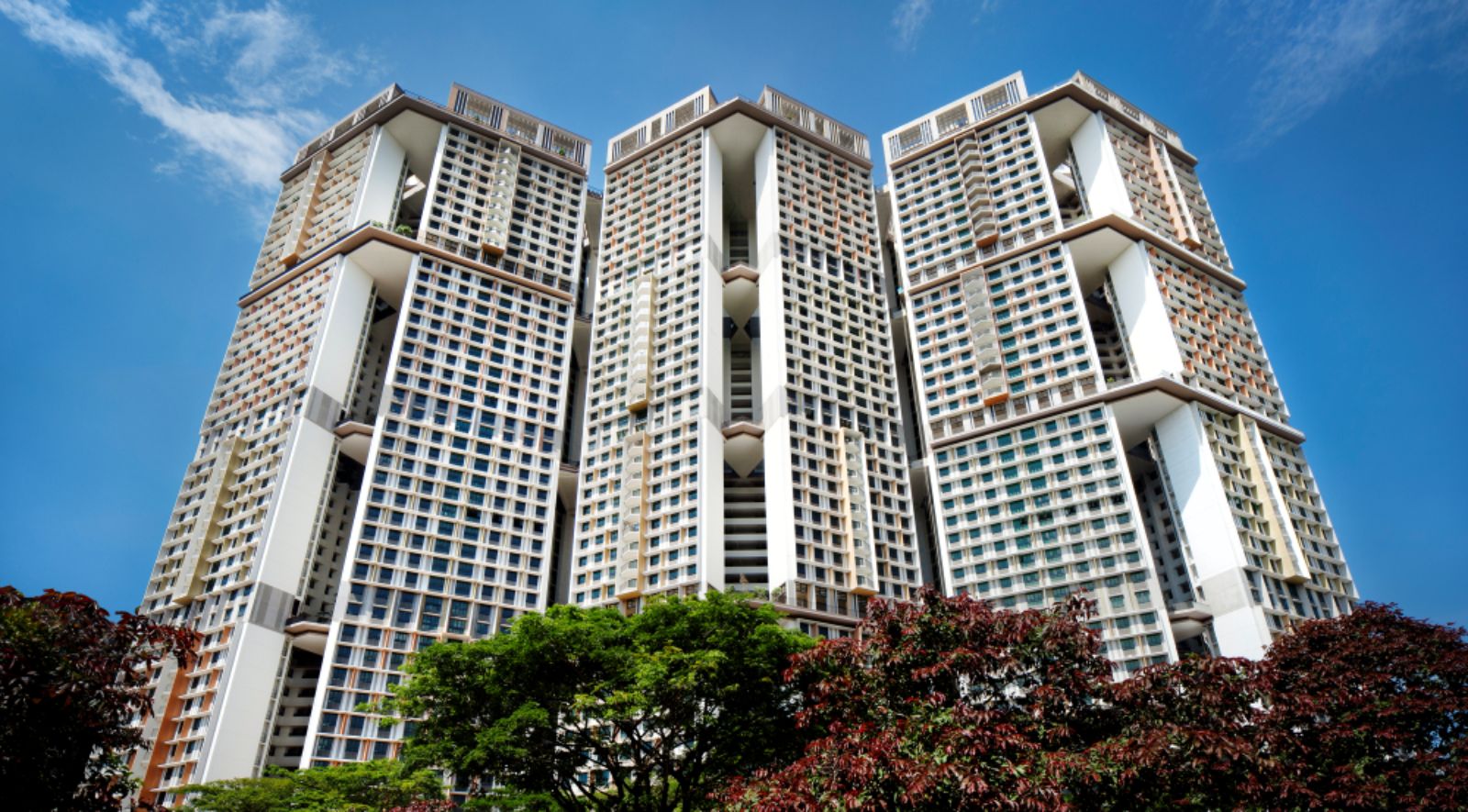 Every dwelling unit belongs to a 'Sky Village' with 80 homes. A total of 12 villages (960 homes) are stacked in four layers across the 3 interconnected blocks. To maintain a sense of human scale, every village shares a communal 'Sky Terrace' every 12 floors. A communal 'Sky Park' on the roof, and extensive public parkland at ground level contributes to the High-Density/ High-Amenity concept of the development.
Video Production: Xtreme Media; Drone Videography: K.Kopter; Skyshot; Time Lapse Photographer/Videographer: Keith Loutit.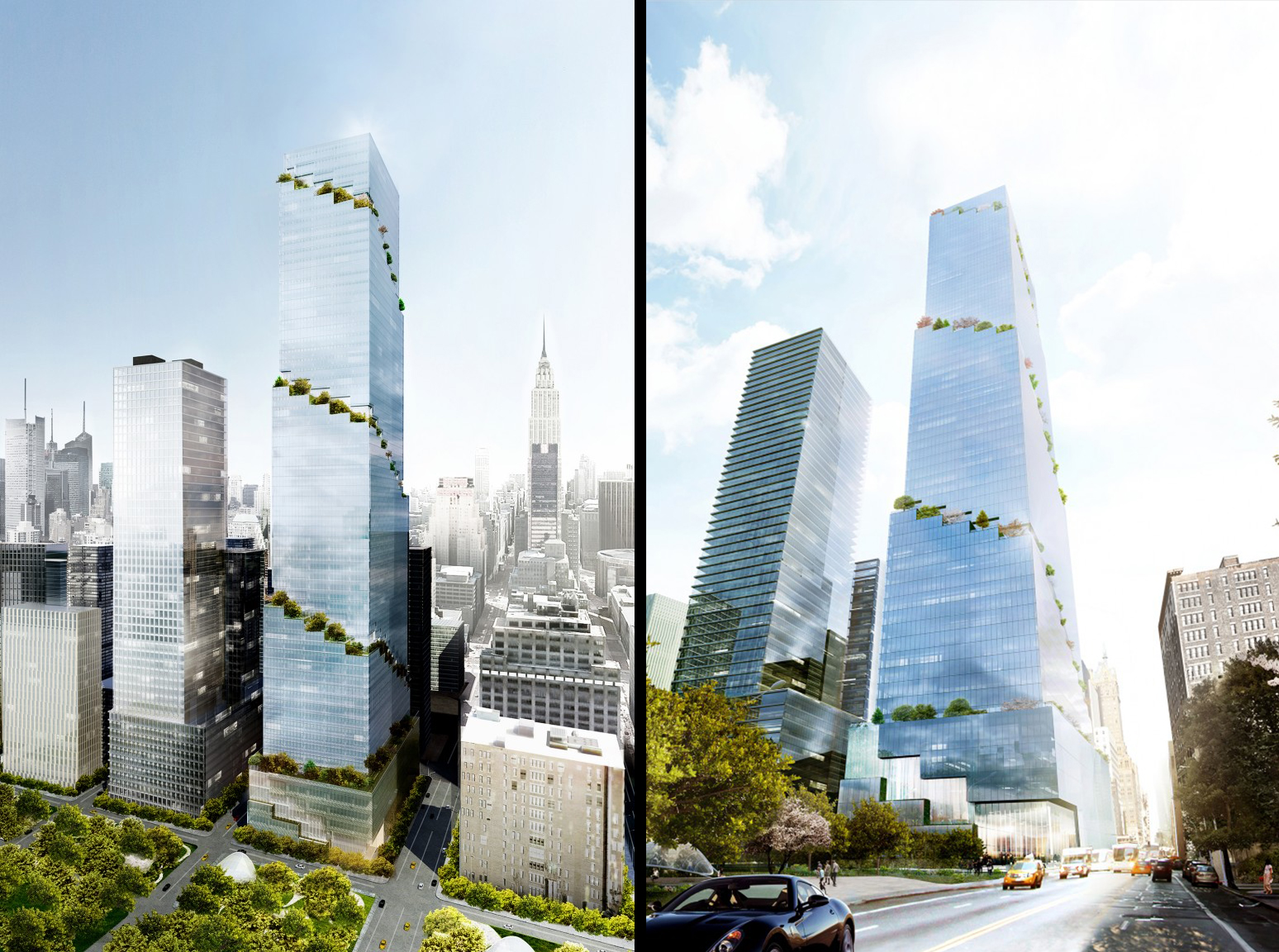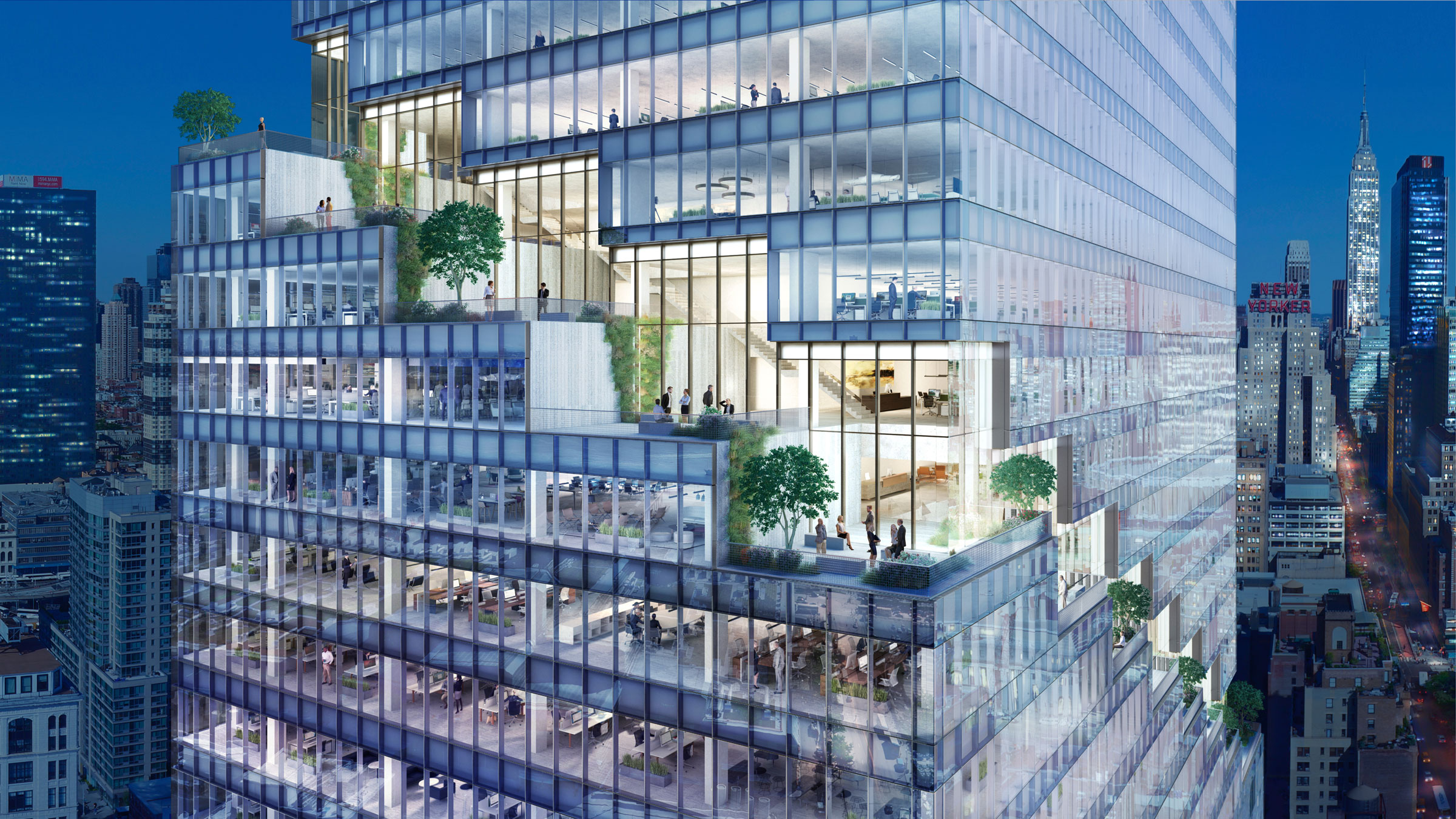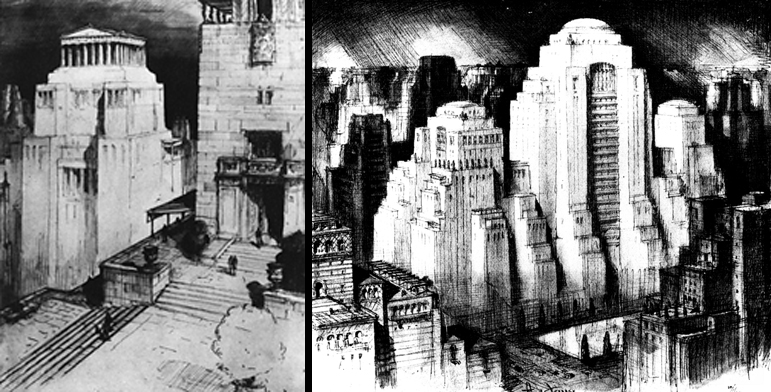 The Spiral, New York City
The Spiral is a 1,041 ft/ 317m office building under construction in the expanding Hudson Yards district west of Midtown Manhattan. The design by BIG (Bjarke Ingels Group) is a steel and glass skyscraper that incorporates nature in landscaped terraces that wind around its 66 stories, giving office workers on every floor access to an outdoor garden.
The towers's form, which tapers as it rises, draws on the history of New York's skyscrapers of the 1920s that were shaped by the city's new zoning regulation which required a series of setbacks as the building grew taller. Here are some examples of gardens on the roofs of skyscrapers drawn by the architectural delineator Hugh Ferriss in the early 1920s!
Here are some examples of gardens on the roofs of skyscrapers drawn by the architectural delineator Hugh Ferriss, author of The Metropolis of Tomorrow (1929). For more visions of the future city, see the exhibition New York Modern (See here to learn about the case of the Rockefeller Center)
Watch the video to see BIG's inspiration from both nature and New York City history.
Activity: Turn a NYC Skyscraper Green!
In New York City, the idea of GREEN skyscrapers has only recently become popular. Using the Design Examples above, how would you go about turning an older building into a new, more sustainable one?
We've put together a worksheet, which you can download here, featuring two classic New York City skyscrapers for you to draw on and experiment with. Don't be afraid to be drastic in your redesigns! How would you make these buildings green?