Virtual Exhibitions from the Archives
Though the main event is in our gallery, the Museum preserves complete records of its past shows in an online version, not just through installation views, but displaying every image and label text! You can view more than 25 virtual exhibitions through this portal. Each one has a microsite with its own navigation menu that is archived on our original "legacy" website: you'll notice a change in format, but you will find a wealth of history!
TEN TOPS
TOP TEN LISTS hold a perennial fascination, and arguments about which building should hold the title of world's tallest has spawned three competing line-ups based on different metrics. In 2015, the Museum took a different tack – the exhibition TEN TOPS which created a simple category – buildings of 100 stories and higher – then focused on one aspect of their identity: the topmost floors. Distinctive tops that add extra height have been characteristic of New York skyscrapers from the first tall office buildings in the 1870s, and the romance of Manhattan's towers has been the inspiration and touchstone for a worldwide surge of signature tops.
Watch TOP TEN lineups HERE
In July 2018, our exhibition SKYLINE investigated the changing scene of New York City's many skylines over the years, attempting to simplify and organize New York's nearly 150 years of skyline development into five significant periods in which buildings take characteristic forms shaped by economic, technological, and regulatory factors. Check out the SKYLINE virtual exhibition, including the sliders seen above, to learn more about New York's vertical history!
HOUSING DENSITY examined the history of density in New York City from tenements to "towers in the park" through the lens of density and its different definitions. What is density? Does the word describe a condition of people or place? Is it people crowded together? Buildings too tightly spaced, or too tall? The exhibition emphasized understanding density as a step to meaningful dialogue about the future of the city.
Watch related lectures HERE
MILLENNIUM revisited this recent history of lower Manhattan in the years just before Downtown's identity was cataclysmically recast as Ground Zero, and a new era truly began.
Watch related lectures HERE
TEN & TALLER illustrated every building erected in Manhattan that was ten stories or taller from 1874 through 1900 – a total of 252 structures – and located them on a historic land map, as well as on a timeline that also represents their height and use.
Watch related lectures HERE
The exhibition featured the work of WOHA, the Singapore architects whose tropical towers, enveloped by nature, create vertical villages with sky gardens, breeze-ways, and elevated parks.
SKY HIGH examines the recent proliferation of super-slim, ultra-luxury residential towers on the rise in Manhattan. These pencil-thin buildings-all 50 to 90+ stories-constitute a new type of skyscraper in a city where tall, slender structures have a long history.
Watch related lectures HERE
Times Square today is bright and crowded – a tourist mecca, entertainment district, retail powerhouse, and pedestrianized precinct that matches in vitality, both economic and populist, any decade of its storied past. But thirty years ago, the future of Times Square was in limbo – caught between a series of false starts at clean-slate urban renewal by the City and State and an emerging philosophy of urbanism that favored history, preservationist values, electric signs and semiotics, and delirious diversity.
Watch related lectures HERE
The largest concentration of skyscraper factories in the world, the 18 blocks that were the heart of New York's Garment District, once supported more than 100,000 manufacturing jobs and produced nearly 3/4 of all women's and children's apparel in the US. The rapid development of the district–the area of west midtown from 35th to 41st Streets and from Seventh to Ninth Avenues–occurred almost entirely within the boom decade of the 1920s, when more than 125 stepped-back "loft" buildings took the pyramidal forms dictated by the city's new zoning law.
Watch related lectures HERE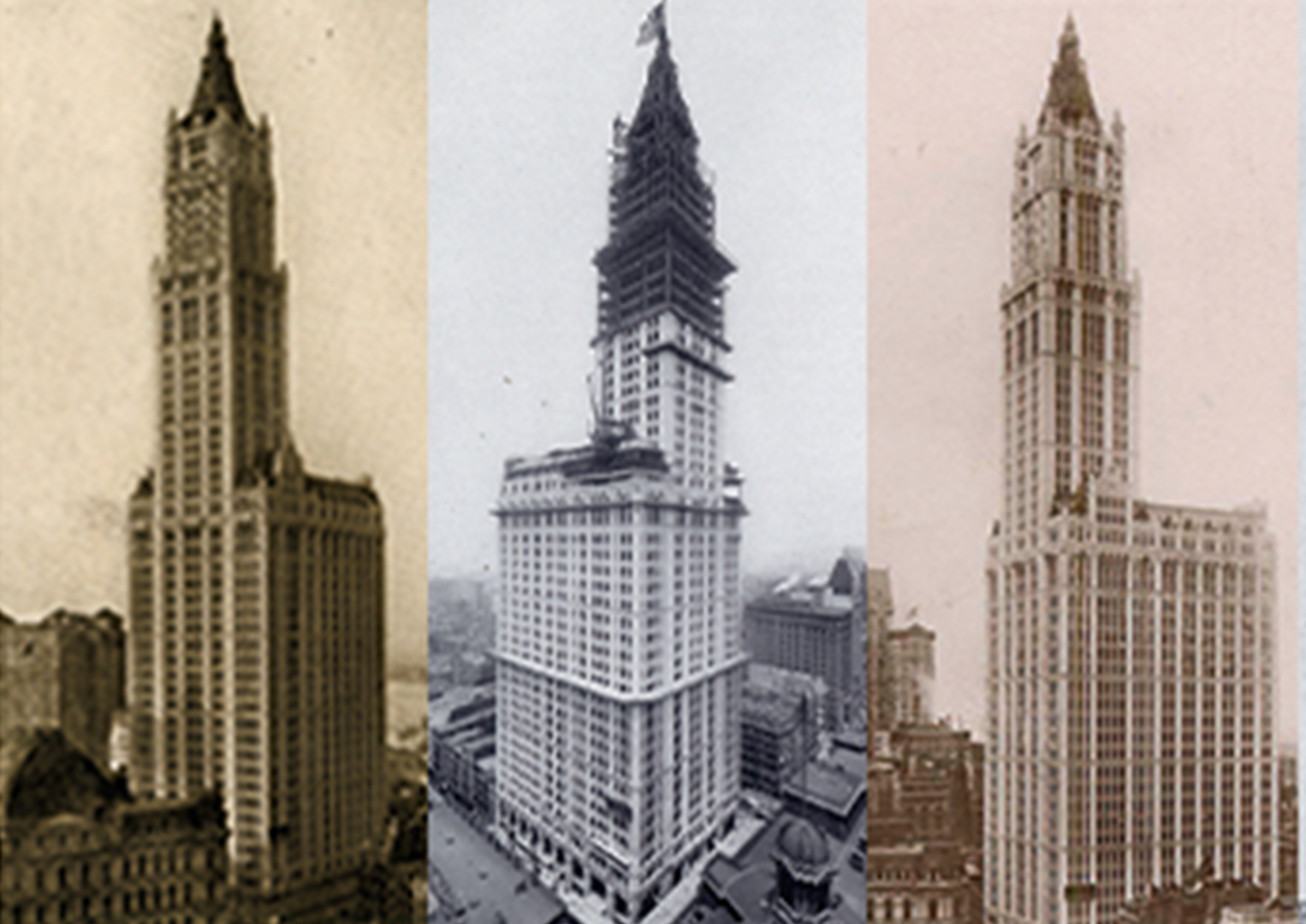 The Woolworth Building @ 100
Eighty thousand incandescent bulbs illuminated the New York night on April 24, 1913, when the Woolworth Building opened with a ceremony attended by 800 dignitaries. Witnessed by multitudes and wired to press around the world, the brilliant spectacle was a career-crowning achievement for the tower's owner, the five-and-dime store king Frank W. Woolworth, who paid for the skyscraper with his personal fortune and took a hands-on role in every decision of its design. The great Gothic tower-the Cathedral of Commerce-became the preeminent silhouette on the New York skyline and took the title of world's tallest office building.
Watch related lectures HERE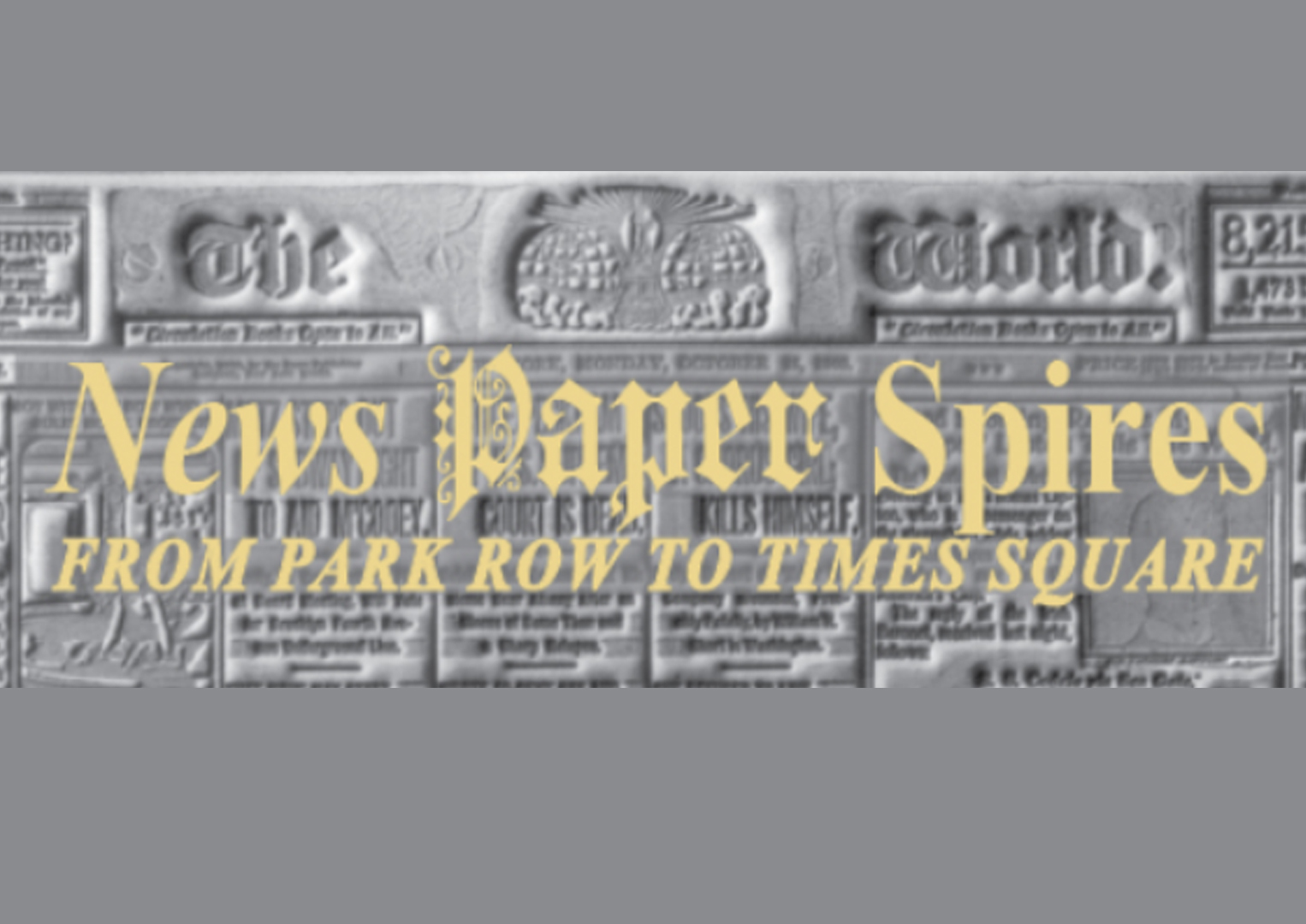 News PAPER Spires
The first chapters in New York's high-rise history were written in the 1870s through the early 1900s when the city's great newspapers –the Times, Tribune, and World, among others– erected tall towers as signature headquarters. "Newspaper Row" on the east side of City Hall Park was center stage for their architectural competition and a concentrated hub of production, transforming news into newspapers. These early skyscrapers were both ostentatious advertisements of the papers' self-proclaimed supremacy and vertical factories where on high floors, editors approved stories and compositors set type, while in the cellar and basement, steam engines or dynamos powered thundering presses that night and day rolled out tens of thousands of papers per hour.
Watch related lectures HERE
In addition to all the content hosted on the Museum website, we also have adapted original content to Urban Archive's platform. At the Museum's Collection page, you can find virtual historic tours of New York City buildings, using archive images and pairing them to maps of the city.