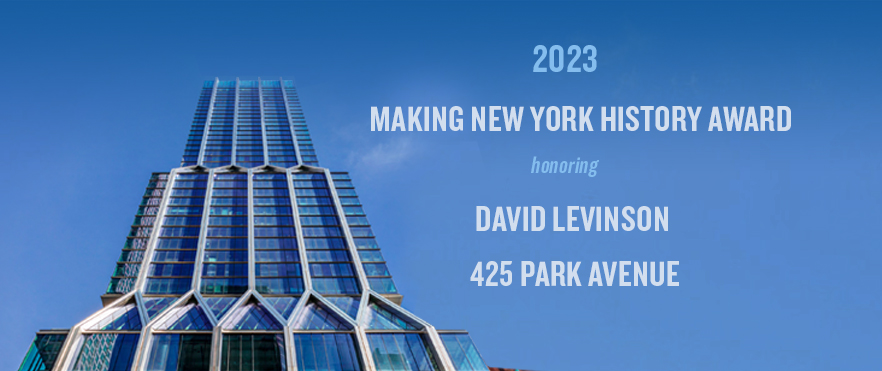 MAKING NEW YORK HISTORY AWARD
Celebrating 425 Park Avenue and honoring
DAVID LEVINSON
Chairman & CEO of L&L Holding Company
Real estate alchemist whose diverse urban reinventions, 425 Park Avenue, TSX Broadway, and Terminal Warehouse, renew our city for the 21st century.
WEDNESDAY, NOVEMBER 29th, 2023 from 5:30 to 7:30 pm
Cocktails at The Diagrid Club at 425 Park Avenue
The Skyscraper Museum's 2023 Making New York History Award, which recognizes remarkable individuals and buildings that have shaped New York City's signature skyline, honored DAVID LEVINSON, Chairman & CEO of L&L HOLDING COMPANY, at a cocktail party on November 29, 2023. Serving as the inspiration for the award and the venue for the event was L&L Holding Company's gleaming new tower, 425 PARK AVENUE, designed by Foster + Partners and opened in 2022. The skyscraper is the first new full-block office building in the Plaza District in 50 years.
More than 150 guests gathered to honor Levinson in The Diagrid Club, a cathedral-like venue on the 26th floor defined by triple-height arches. The speeches and photographs took place in front of an art wall of mirrored orbs by avant-garde Japanese artist, Yayoi Kusama, titled "Narcissus Garden," first shown at the Venice Biennale in 1966.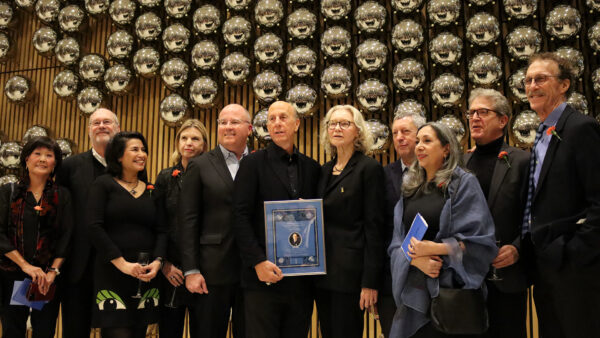 Salutes to David Levinson were offered by Carol Willis, founder and director of The Skyscraper Museum, James von Klemperer, president of the architecture firm Kohn Pedersen Fox and chair of the Museum's board, and Meenakshi Srinivasan, past chair of the New York City Landmarks Preservation Commission. Willis described Levinson as "an urban alchemist whose diverse urban reinventions, 425 Park Avenue, TSX Broadway, and Terminal Warehouse, renew our city for the 21st century."
Accepting the award, David Levinson thanked his team, noting, "To develop and build a tower as bold and ambitious as 425 Park Avenue requires the ingenuity and immense talent of countless individuals. I am honored to receive this award, which I share with the incredible team we have assembled at L&L Holding, along with all of the amazing architects, engineers, contractors and other professionals who helped turn our collective vision for 425 Park – and for TSX Broadway, Terminal Warehouse, 390 Madison and many others – into reality. I thank Carol Willis and the entire board of the Skyscraper Museum for their enduing support of great architecture and New York City."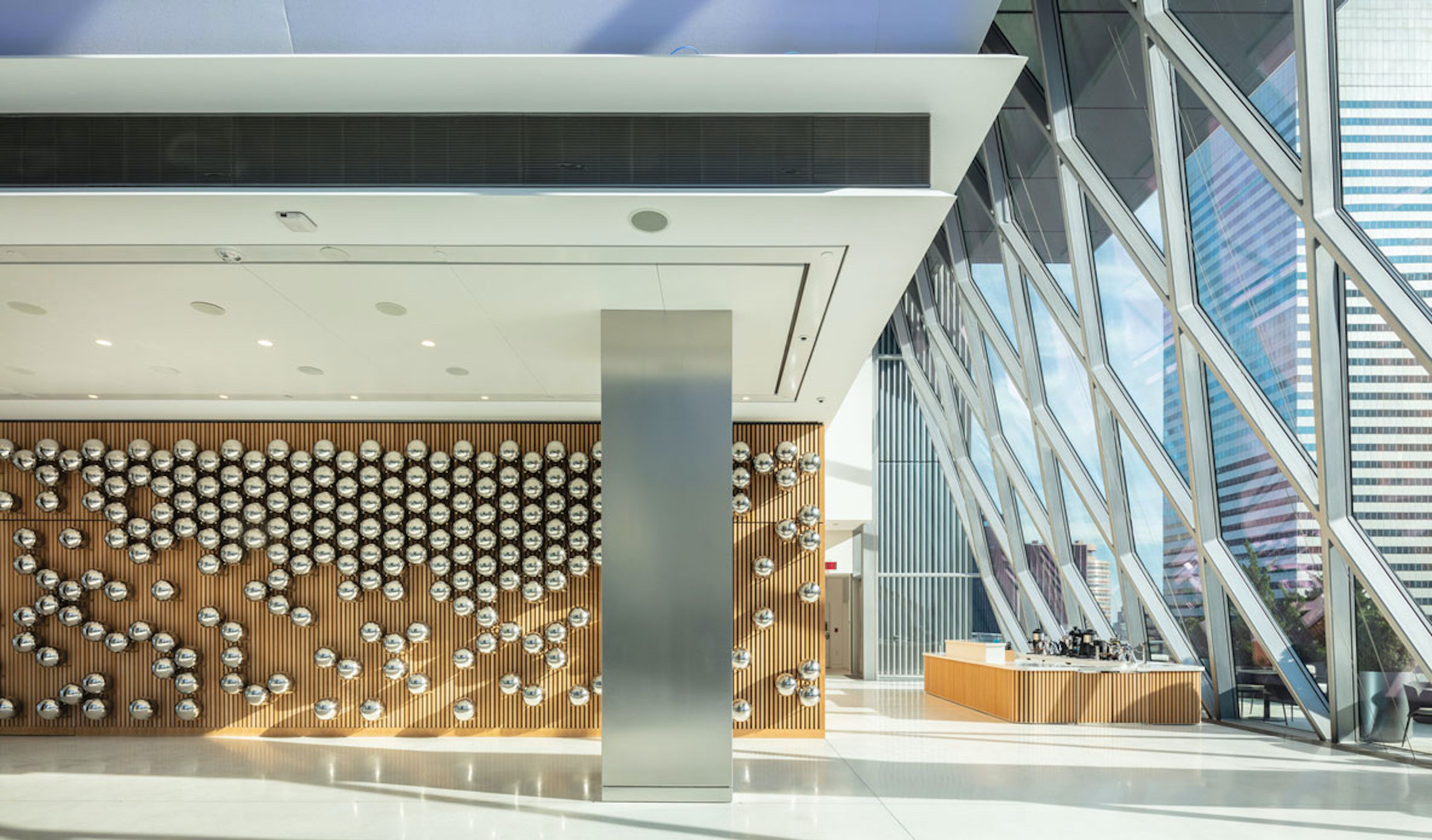 The Diagrid Club on the tower's 26th floor features an art installation by Yayoi Kusama and access to terrace views of Park Avenue and Central Park.
List of Donors as of 11/28/2023
PINNACLE
Kohn Pedersen Fox Assoc. PC
L&L Holding Company
Carol & Mark Willis
PLATINUM
Blackstone
DeSimone Consulting Engineers
Fisher Brothers
New Line Structures
Thornton Tomasetti Inc
Turner Construction
GOLD
Architectural Record
CBRE
Columbia Property Trust
Cushman & Wakefield
GARDINER & THEOBALD
Gensler
Holland & Knight
JRM Constructing Management, LLC
R&R Scaffolding, Ltd.
RXR
SawTeen See
Severud Associates
Shawmut Design & Construction
STUDIOS Architecture
TK Elevator Corp
TF Cornerstone
Thornton Tomasetti Inc
WSP
SILVER
AECOM Tishman
AKRF, Inc.
ASM MECHANICAL SYSTEMS
Cannon Hill Capital Partners, LLC
COOKFOX Architects
Foster + Partners
Hill West Architects
JB&B
Higgins Quasebarth & Partners, LLC
King & Spalding
Kramer Levin
Langan
Ronnie & Ken Lowenstein
McNamara Salvia Structural Engineers
Monadnock
Moss Construction
Newmark
Orange County Ironworks, LLC
The Pace Companies
PARK TOWER GROUP
Robert A.M. Stern Architects
The Real Estate Board of New York
Rizzo Brookbridge
Snøhetta
SOCOTEC
SOM
STEEL
Atelier Ten
Beyer Blinder Belle, Architects and Planners, LLP
BIG | Bjarke Ingels Group
Ann & Lawrence Buttenwieser
Colliers International
Edison Properties
Gordon H. Smith Corp.
Handel Architects LLP
Jablonski Building Conservation, Inc.
Bob Knakal
Lerch Bates
Madison Realty Capital
MdeAS Architects
National Elevator Cab & Door Corp.
Pelli Clarke & Partners
Permasteelisa North America Corp.
Lynne B. Sagalyn & Gary Hack
SOM
Summit Financial
Click here to view tickets & patron packages.
  For methods of payment or more information,
please contact the Museum office 
at (212)-945-6324
  or
email
[email protected]