The Skyscraper Museum is devoted to the study of high-rise building, past, present, and future. The Museum explores tall buildings as objects of design, products of technology, sites of construction, investments in real estate, and places of work and residence. This site will look better in a browser that supports web standards, but it is accessible to any browser or Internet device.
UPCOMING PROGRAMS
BOOK TALKS AND PROGRAMS
On December 18, 2013 and January 8, 2014 at 3PM, museum Curator and Director Carol Willies will lead guided tours of the current exhibition SKY HIGH & the logic of luxury.
The book talks and lectures below are held at The Skyscraper Museum from 6:30-8 pm and are free of charge, except when noted. The gallery and exhibition are open for viewing from 6 pm. Please RSVP to programs[at]skyscraper[dot]org with the name of the program you would like to attend.

Please be aware that reservation priority is given to Members of The Skyscraper Museum. Not a member? Become a Museum member today! The Skyscraper Museum offers CEUs for AIA members.
---
December 10, 2013 6:30PM-8PM

Phyllis Lambert Book Talk
BUILDING SEAGRAM
(Yale University Press; April 2013)
On December 10, Phyllis Lambert will discuss her book Building Seagram, published by Yale University Press. Her illustrated talk will be followed by a dialogue with Museum Director Carol Willis.
Considered one of the greatest icons of twentieth-century architecture, the Seagram Building was commissioned by Samuel Bronfman, founder of the Canadian distillery dynasty Seagram. Bronfman's daughter Phyllis was twenty-seven when she took over the search for the project's architect and chose Mies van der Rohe (1886–1969), a pioneering modern master of what he termed "skin and bones" architecture.
Building Seagram is a comprehensive personal and scholarly history of a major building and its architectural, cultural, and urban legacies. Lambert makes use of previously unpublished personal archives, company correspondence, and photographs to to tell the ultimate insider's view of the debates, resolutions, and unknown dramas of the building's construction, as well as its crucial role in the history of modern art and architectural culture.
Phyllis Lambert is the founding director of the Canadian Centre for Architecture in Montreal. A licensed architect, she has contributed essays to numerous books and is the subject of the 2007 documentary film "Citizen Lambert: Joan of Architecture."
Reservation priority for this program will be given to members of the Museum.
Not a member? Become a Museum member today!
December 18, 2013 and January 8, 2014 3:00PM

SKY HIGH & the logic of luxury: Curator's Tour
Director and Curator Carol Willis will lead a tour of the current exhibit SKY HIGH & the logic of luxury.
January 14, 2014 6:30PM-8PM

Constance Rosenblum Book Talk
HABITATS: PRIVATE LIVES IN THE BIG CITY
(New York University Press; March 2013)
There may be eight million stories in the Naked City, but there are also nearly three million dwelling places, ranging from Park Avenue palaces to Dickensian garrets and encompassing much in between. The doorways to these residences are tantalizing portals opening onto largely invisible lives. Habitats offers 40 vivid and intimate stories about how New Yorkers really live in their brownstones, their apartments, their mansions, their lofts, and as a whole presents a rich, multi-textured portrait of what it means to make a home in the world's most varied and powerful city.
Constance Rosenblum, most recently author of the Habitats column published in the Real Estate section The New York Times, was the longtime editor of Times's City section and a former editor of the paper's Arts and Leisure section. She is the author of Boulevard of Dreams: Heady Times, Heartbreak and Hope along the Grand Concourse in the Bronx.
Constance will be joined in conversation with Boris Fishman, a subject of one of her Habitats profiles, who is also the author of the novel A Replacement Life, forthcoming from HarperCollins in June 2014.



January 28, 2014 6:30PM-8PM

Vishaan Chakrabarti Book Talk
A COUNTRY OF CITIES: A MANIFESTO FOR AN URBAN AMERICA
(Metropolis Books; May 2013)
In A Country of Cities, Vishaan Chakrabarti argues that well-designed cities are the key to solving America's great national challenges: environmental degradation, unsustainable consumption, economic stagnation, rising public health costs and decreased social mobility. If we develop them wisely in the future, our cities can be the force leading us into a new era of progressive and prosperous stewardship of our nation. Through clear, accessible prose and a distinct visual language of original illustrations created by SHoP Architects, Chakrabarti delivers a wealth of information about cities, suburbs and exurbs, looking at how they developed across the 50 states and their roles in prosperity and globalization, sustainability and resilience, and heath and joy.
Vishaan Chakrabarti, AIA, is the director of Columbia University's Center for Urban Real Estate (CURE). An architect and planner, Chakrabarti has worked in both the public and private sectors: as a director at the New York City Planning Commission; an associate partner at Skidmore, Owings & Merrill; a transportation planner for the Port Authority of New York and New Jersey and as an executive at the Related Companies. In March 2012, Chakrabarti became a partner at SHoP Architects.
February 18, 2014 6:30PM-8PM

Alexandros Washburn Book Talk
THE NATURE OF URBAN DESIGN: A NEW YORK PERSPECTIVE ON RESILIENCE
(Island Press; May 2013)
In his visually rich book A Country of Cities, Alexandros Washburn argues that the best cities become an ingrained part of their residents' identities and that the strength of our communities will determine how we respond to crises like Hurricane Sandy, whose floodwaters he watched from his home in Red Hook, Brooklyn. Urban design is the key to this process, but all too often, citizens abandon it to professionals, unable to see a way to express what they love and value in their own neighborhoods. His book strives to empower urbanites and offer a new approach to design that will help cities to prosper in an uncertain future.
Alexandros Washburn is the Chief Urban Designer of the New York City Department of City Planning and former Public Works Advisor and chief architect for Senator Daniel Patrick Moynihan. He lives in Red Hook, Brooklyn.
March 11, 2014 6:30PM-8PM

May Joseph Book Talk
FLUID NEW YORK: COSMOPOLITAN URBANISM AND THE GREEN IMAGINATION
(Duke University Press Books; July 2013)
Hurricane Sandy was a fierce demonstration of the ecological vulnerability of New York, a city of islands. Yet the storm also revealed the resilience of a metropolis that has started during the past decade to reckon with its aqueous topography. In Fluid New York, May Joseph describes the many ways that the city and its citizens have begun to incorporate the urban archipelago ecology into plans for a livable and sustainable future.
May Joseph's reflections reach back to the city's heyday as a world-class port—a past embodied in a Dutch East India Company cannon recently unearthed from the rubble at the World Trade Center site. They also encompass the devastation caused by Hurricane Sandy and suggest that the city's future lies in the reclamation of its great water resources—for artistic creativity, civic engagement, and ecological sustainability.
May Joseph is Professor of Social Science at the Pratt Institute, where she teaches urbanism, global studies, and visual culture. She is the founder of Harmattan Theater, which produces site-specific outdoor productions exploring the history of New York City through its architecture, design, and natural environment Joseph is also the author of Nomadic Identities: The Performance of Citizenship and a coeditor of Performing Hybridity.



April 29, 2014 6:30PM-8PM

Judith Dupr&eacute Book Talk
SKYSCRAPERS:
A HISTORY OF THE WORLD'S MOST EXTRAORDINARY BUILDINGS
Fourth Edition
(Black Dog & Leventhal Publishers; November 2013)
Skyscrapers captivate the eye, excite the imagination, and inspire awe and reverence. Wonders of artistic creativity and engineering ingenuity, of hard work and playful dreaming, skyscrapers embody the best of our practical achievements and reflect our highest aspirations. Judith Dupré's Skyscrapers invites you to enjoy the stunning works born of that quest, introducing readers to the world's most remarkable and beloved buildings while also exploring both the ancient roots of skyscrapers and visionary cities of the future.
This is a revised and updated version of Dupre's popular skyscraper survey, first published in 1996.
A graduate of Brown and Yale Universities, Judith Dupré is the author of several acclaimed books about architecture, including Bridges (BD&L), New York Times bestselling Churches and Monuments. A resident of New York, Dupré consults on large scale infrastructure projects and lectures at Yale and other universities.






---
November 19, 2013 6:30PM-8PM

Erica Stoller Book Talk
LOOKING TWICE: UNDERSTANDING URBAN CONSTRUCTION THROUGH PHOTOGRAPHS
(Yale University Press; December 2012)
Ezra Stoller Photographer, the book by Nina Rappaport and Erica Stoller, considers the scope of work by Stoller, known as the dean of American architectural photographers. His iconic photographs of 20th-century architectural masterpieces, such as Frank Lloyd Wright's Fallingwater and Mies van der Rohe's Seagram Building, are often cited in aiding the rise of modernism in America. Stoller (1915–2004) elevated architectural photography to an art form, capturing the mood of numerous buildings in their best light.
On November 19, Erica Stoller will take a close look at rarely-seen images of models, construction and final views made in the '50s and '60s of the most important Modern buildings along Park Avenue and other New York City sites. Looking beyond the content, one can begin to understand the photographer's decisions about where, when and how the images were made.
Erica Stoller is director of Esto, the photographic agency founded by Ezra Stoller. She is the co-author with Nina Rappaport of Ezra Stoller, Photographer.
Click here to listen to the program
November 13 and 20; December 4, 2013 3:00PM

SKY HIGH & the logic of luxury: Curator's Tour
Director and Curator Carol Willis conducted a tour of the current exhibit SKY HIGH & the logic of luxury.
October 29, 2013 6:30PM-8PM

Matthew Gordon Lasner Book Talk
HIGH LIFE: CONDO LIVING IN THE SUBURBAN CENTURY
(Yale University Press; October 2012)
Today, one in five homeowners in American cities and suburbs lives in a multifamily home rather than a single-family dwelling. As the American dream evolves, precipitated by declining real estate prices and a renewed interest in city living, many predict that condos will become the predominant form of housing in the 21st century. In this unprecedented study Matthew Gordon Lasner explores the history of co-owned multifamily housing in the United States, from New York City's first co-op, in 1881, to contemporary condo and townhouse complexes coast to coast. Lasner explains the complicated social, economic, and political factors that have increased demand for this way of living, situating the trend within the larger housing market and broad shifts in residential architecture. He contrasts the prevalence and popularity of condos, townhouses, and other privately governed communities with their ambiguous economic, legal, and social standing, as well as their striking absence from urban and architectural history.
Matthew Gordon Lasner is assistant professor of urban affairs and planning at Hunter College.
Click here to listen to the program
September 11, 2013 3:00PM

9/11 Gallery Talk
On the 12th anniversary of the 9/11 attacks, director and curator Carol Willis gave a gallery talk in the World Trade Center permanent exhibitions.
September 5, 2013 3:00PM and September 12, 2013 1:00PM
1411 Broadway, corner of 40th St.

Urban Fabric 2: Curator's Tour
Director and Curator Carol Willis conducted a tour of the current exhibit Urban Fabric 2. This event was free and open to the public.
August 21 and September 4, 2013 3:00PM

Woolworth Building @ 100: Curator's Tour
Director and Curator Carol Willis conducted a tour of the current exhibit The Woolworth Building @ 100.
July 24, 2013 6:30PM-8PM

Marguerite Holloway Book Talk
THE MEASURE OF MANHATTAN: THE TUMULTUOUS CAREER AND SURPRISING LEGACY OF JOHN RANDEL, JR., CARTOGRAPHER, SURVEYOR, INVENTOR
(W. W. Norton & Company; February 2013)
John Randel Jr. (1787-1865) was an eccentric and flamboyant 19th-century surveyor who plotted Manhattan's famous defining grid, the 1811 Commissioners' Plan. Unearthing Randel's engrossing and dramatic life story for the first time, Marguerite Holloway's eye-opening biography resurrects this unheralded pioneer of American engineering and mapmaking.The Measure of Manhattan illuminates the ways in which surveying and cartography change the ground beneath our feet. Bringing Randel's story into the present, Holloway travels with contemporary surveyors and scientists trying to envision Manhattan as a wild island once again.
Marguerite Holloway, the director of Science and Environmental Journalism at Columbia University, has written for Scientific American, Discover, the New York Times, Natural History, and Wired
July 10, 2013 3:00PM

Woolworth Building @ 100: Curator's Tour
Director and Curator Carol Willis conducted a tour of the current exhibit The Woolworth Building @ 100.
June 26, 2013 6:30PM-8PM

David Anderson Book Talk
ON WALL STREET: ARCHITECTURAL PHOTOGRAPHS OF LOWER MANHATTAN, 1980–2000
(George F. Thompson Publishing; January 2013)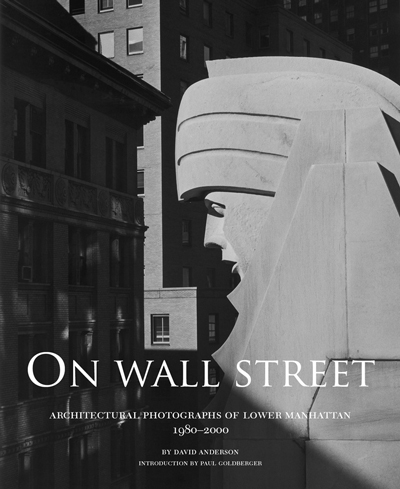 During the late 1970s and early 1980s, as big glass and steel boxes rose across the city, photographer David Anderson dedicated himself to a project to document Wall Street's classic architecture. Avoiding the focus on people, traffic, and street life, he concentrates attention on architectural details or certain profiles to reveal built form, energy, and a larger sense of place within the city's urban fabric.
Architectural historian Gail Fenske observes: "David Anderson's poignant photographs capture the coldness, power, and impregnability of the mythical Wall Street. Devoid of the flux of street movement and crowds, the monuments speak. Creatures keep watch, frozen in stone, while surprising traces of decay and delicate detail suggest the contingency, even frailty, of human existence. Paul Goldberger's masterful introduction guides us as well in seeing and appreciating this historic citadel of American finance."
David Anderson is an architectural photographer who was born and raised in Lincoln, Nebraska. He moved to New York City at a young age, beginning his photographic career at the Daily News. He served in the U.S. Army as a cameraman, and from 1969-1983, he worked as a cinematographer, specializing in commercials and documentaries. He now lives in the Hudson River Valley.
Click here to listen to the program
June 14, 2013 1PM-5PM

Medieval or Modern?
WOOLWORTH BUILDING CENTENNIAL
In conjunction with the current exhibition The Woolworth Building @ 100, the Skyscraper Museum presented an afternoon of illustrated talks, inquiry, and dialogue inspired by the centennial of New York City's great Gothic tower, "The Cathedral of Commerce."
Our distinguished speakers included Mary Beth Betts, Gail Fenske, Joanna Merwood-Salibury, Kevin Murphy, Dietrich Neumann, Suzanne Stephens, and Mary Woods.
The program took place in the rear lobby arcade of the Woolworth Building.
The program was presented with the generous support of ELISE JAFFE + JEFFREY BROWN.
The Skyscraper Museum offered 2.5 CEUs for AIA Members for this program.
Click here for a video stream archive of the symposium.
MAY 15, 6:30-8PM

DONALD FRIEDMAN LECTURE
The Woolworth Building: Engineering Height

Plan of the Woolworth Building Foundation Wind-bracing Diagram. Reproduced from American Architect, 103, March 26, 1913.
The 792-foot Woolworth Building doubled the height of the tallest skyscraper of 1900, the neighboring Park Row Building, and surpassed the 1908 SInger Building by 180 feet. The rapid rise in height, from Park Row, to Singer, to the 700-foot Metropolitan Life Tower in 1909, reflects the arrival of mature steel-frame technology.
Gunvald Aus, the chief engineer of the Woolworth Building, was one of a group of turn-of-the-century structural engineers who were designing ever-larger steel-frame buildings and openly debating the best engineering methods for high-rise design and construction. At a time when the building codes and engineering education was still catching up to the reality of skyscrapers, this professional debate on the proper methods of dealing with foundations, wind loads, and supporting masonry curtain walls served as a method of technology transfer that allowed engineers who had not previously designed tall steel-frame buildings to understand key issues.
Donald Friedman, a structural engineer, is the president of Old Structures Engineering and lives in New York City. He is the author of Historical Building Construction; After 9-11: An Engineer's Work at the World Trade Center; The Investigation of Buildings; The Design of Renovations, with Nathaniel Oppenheimer; and Building the Empire State with Carol Willis.



May 7, 2013 6:30PM-8PM

Gail Fenske Lecture
THE WOOLWORTH BUILDING: HIGHEST IN THE WORLD
On July 1st, 1912, structural ironworkers topped off the Woolworth Building's steel frame with an American flag and New Yorkers celebrated the "Highest in the World." Yet the project had started out as a mere 20-story office building. Only after Frank W. Woolworth's disjointed process of parcel acquisition and Cass Gilbert's erratic, protracted sequence of design did the Woolworth Building's spectacular 792-foot high tower rise to command its surroundings.
And while both Gilbert and Woolworth participated in the day's obsession with big spatial ideas, Gilbert had romantically aspired to build the world's tallest tower and Woolworth simply to erect a "giant signboard" to advertise his chain of stores around the world. How did Gilbert and Woolworth negotiate such aims with the realities of the marketplace to construct what the New York Times called "The World's Greatest Skyscraper"?
Gail Fenske is author of The Skyscraper and the City: The Woolworth Building and the Making of Modern New York (University of Chicago Press, 2008). She is professor of architecture in the School of Architecture, Art & Historic Preservation at Roger Williams University, and has taught as a visiting professor at Cornell, Wellesley, and MIT. She is also a licensed architect and has practiced architecture in Boston and New York. She holds a Ph.D. in the history, theory, and criticism of architecture from MIT.
This event is members priority. For information on Museum membership click here.
April 22, 2013 6PM-8PM

Gail Fenske lecture and reception at the Center for Architecture
THE WOOLWORTH BUILDING: THE MAKING OF A NEW YORK LANDMARK
This event, co-sponsored by The Woolworth Centennial Celebration Committee, the AIA New York Chapter Historic Buildings Committe, and The Skyscraper Museum, was held at the Center for Architecture, 536 LaGuardia Place, New York.
When the Woolworth Building was completed in 1913, critics hailed Cass Gilbert's design as a spectacular feat of engineering and wondrous Gothic tower. The highest skyscraper in the world, it secured the emblematic status of New York's skyline as a "city of towers." But the Woolworth Building's fame as a landmark belies the differing aims of its architect, client, and builder, each of whom had a unique relationship to the city. How did Gilbert reconcile his vision for the Woolworth Building with that of his client, F. W. Woolworth, and builder, Louis Horowitz of the Thompson-Starrett Company, to create the artistic masterwork and exemplar of urbanity that we recognize today?
Gail Fenske is author of The Skyscraper and the City: The Woolworth Building and the Making of Modern New York (University of Chicago Press, 2008). She is professor of architecture in the School of Architecture, Art & Historic Preservation at Roger Williams University, and has taught as a visiting professor at Cornell, Wellesley, and MIT. She is also a licensed architect and has practiced architecture in Boston and New York. She holds a Ph.D. in the history, theory, and criticism of architecture from MIT.
Click here to listen to the program
April 15, 2013 6:30PM-8PM

Aurora Wallace Book Talk
MEDIA CAPITAL: ARCHITECTURE AND COMMUNICATIONS IN NEW YORK CITY
(University of Illinois Press; October 2012)
With a unique focus on corporate headquarters as embodiments of the values of the press and as signposts for understanding media culture, Media Capital demonstrates the mutually supporting relationship between the media and urban space. Aurora Wallace considers how architecture contributed to the power of the press, the nature of the reading public, the commercialization of media, and corporate branding in the media industry. Tracing the rise and concentration of the media industry in New York City from the mid-nineteenth century to the present–including the great skyscraper headquarters of Newspaper Row and Times Square–Wallace analyzes physical and discursive space, as well as labor, technology, and aesthetics, to understand the entwined development of the mass media and late capitalism.
Aurora Wallace is a professor in the department of Media, Culture, and Communication at New York University and the author of Newspapers and the Making of Modern America.
The Skyscraper Museum continues its WHAT'S UP? series on international skyscraper design and development.
April 10, 2013 6:30PM-8PM

Christoph Ingenhoven Lecture
WHY I LOVE SKYSCRAPERS
This lecture was held in the auditorium of the National Museum of the American Indian, Alexander Hamilton U.S. Custom House, 1 Bowling Green
1 Bligh Street. Image credit: H.G. Esch.
Christoph Ingenhoven is the founding principal of ingenhoven architects, a Dusseldorf-based firm with an increasingly international practice. His assertively modernist work emphasizes ecological principles in combination with innovative engineering and close attention to the public realm. In 2012, his sleek, sustainable, and elegant design for 1 Bligh Street in Sydney, Australia (with Architectus) won the International High-Rise Award of the DAM, the Deutsches Architekturmuseum, the Best Tall Building in Asia & Australasia Award of the Council on Tall Buildings and Urban Habitat, as well as numerous other prizes.
This lecture was presented in collaboration with the Facades + Performance NYC conference, April 11+12. The conference was presented by The Architect's Newspaper and enclos.
Click here to listen to the program
March 22, 2013 10:00AM-5:30PM

Society of Architectural Historians Study Program
STUDY DAY AT THE SKYSCRAPER MUSEUM:
"WOOLWORTH BUILDING @ 100"
Join the Society of Architectural Historians at the The Skyscraper Museums exhibition, Woolworth Building @ 100, on March 22, 2013. SAH will be presenting a customized study day that will offer participants an opportunity for an in-depth look at the exhibition with the curators Gail Fenske, Susan Tunick, and Carol Willis along with a tour of Cass Gilberts buildings in lower Manhattan led by Andrew Dolkart and Gail Fenske, featuring the United States Custom House, the West Street Building, and the Broadway-Chambers Building, concluding with a visit to the Woolworth Building.
The exhibition features original design drawings by Cass Gilbert and his office staff, along with original documents, photographs, and artifacts. The original drawings will be available only for a limited time. The study day will end with a tour of the Woolworth Building, which will include a visit of a typical office space and view what remains of the designs European-inspired interiors. There will be a reception held at The Skyscraper Museum to follow.
Read the full description of the "Woolworth @ 100" Study Day.
General registration ($199 per person, non-refundable) opens January 15, 2013 on the SAH website. A Study Tour Fellowship will be awarded and applications will be accepted November 20 - December 20, 2012.
An all-day program, organized by the Society of Architectural Historians will begin at the Skyscraper Museum
For details and registration, please visit the SAH website
Click here to read a report of the "Woolworth @ 100" Study Day.
March 19, 2013 6:30PM-8PM

Alexander Garvin Book Talk
THE PLANNING GAME: LESSONS FROM GREAT CITIES
(W.W. Norton & Company; March 2013)
The Planning Game: Lessons from Great Cities provides a focused, thorough, and sophisticated overview of how planning works. Generously illustrated with 200 colorful photographs, diagrams, and maps, the book presents the public-realm approach to planning–emphasizing the importance of public investments in streets, squares, parks, infrastructure, and public buildings. The book examines planning at every level, explaining the activities necessary to successfully transform a community. The Lessons from Great Cities draw on four historical examples and their colorful motive forces: Paris (Baron Georges-Eugène Haussmann), New York (Robert Moses), Chicago (Daniel Burnham), and Philadelphia (Edmund Bacon).
Alexander Garvin is a noted architect and urban planner. He is an adjunct professor of urban planning and management at Yale University. He heads a planning and design firm and lives in New York.
Click here to listen to the program
March 7, 2013 6:30PM-8PM

Elihu Rubin Book Talk
INSURING THE CITY: THE PRUDENTIAL CENTER AND THE POSTWAR URBAN LANDSCAPE
(Yale University; June 2012)
One of the most significant urban developments of the 1950s and '60s, the Prudential Center anchors the Boston skyline with its tall gray tower. It is also a historical beacon, representing a midcentury moment when insurance companies like Prudential paid particular attention to how their physical presence and civic engagement reflected on their intangible product: financial security.
For Prudential executives, the construction of a new complex of buildings was not only a way to house the company's regional headquarters, but was also an investment in central Boston at a pivotal time in the city's history. To carry out its ambitious project, the private insurance company succeeded in establishing itself as a quasi-public entity, permitted by city planners to use real estate development as a means of fighting urban blight. Architectural historian Elihu Rubin tells the full story of "The Pru," placing it in the political, economic, and architectural contexts of the period, and providing new insights into urban renewal in postwar America.
Elihu Rubin is an architectural historian, city planner, and documentary filmmaker. He is assistant professor of urbanism at the Yale School of Architecture.
Click here to listen to the program
February 5, 2013 6:30PM-8PM

Mary Anne Hunting Book Talk
EDWARD DURELL STONE: MODERNISM'S POPULIST ARCHITECT
(W. W. Norton & Co; November 2012)
"Colossus," "visionary," "giant" are terms used to describe Edward Durell Stone (1902–1978), the mid-twentieth century celebrity architect whose popular aesthetic of "new romanticism" played a role in defining postwar American modernism. Architectural historian Mary Anne Hunting will discuss the recent interest in Stone's architecture, which has been spurred by the reconsideration of a number of his buildings–especially the controversial conversion of his most flamboyant New York building, former Gallery of Modern Art (1958–64) at 2 Columbus Circle.
Stone's skyscrapers included commissions for New York's 50-story General Motors Building (1963-58) and the 83-story Standard Oil Building (1970-1974) in Chicago. Mary Anne Hunting will discuss Stone's work, placing his aspirations of giving form to the aspirations of an emerging consumer culture.
Mary Anne Hunting received her doctorate from the City University of New York's Graduate Center and a master's degree in the history of decorative arts and design from the Cooper-Hewitt, National Design Museum/Parsons School of Design.
Click here to listen to the program
January 14, 2013 6:30PM-8PM

Kurt Schlichting Book Talk
GRAND CENTRAL'S ENGINEER: WILLIAM J. WILGUS
AND THE PLANNING OF MODERN MANHATTAN
(Johns Hopkins University Press; March 2012)
In the centennial year of New York's great Grand Central Terminal, we celebrate the chief engineer of the New York Central Railroad, William J. Wilgus. Few people have had as profound an impact on the history of New York City. Prof. Kurt C. Schlichting will discuss the remarkable career of this innovator, revealing how his tireless work moving people and goods over and under Manhattan Island and its surrounding waterways forever changed New York's bustling transportation system. After his herculean efforts on behalf of Grand Central, the most complicated construction project in New York's history, Wilgus turned to solving the city's transportation quandary: Manhattan—the financial, commercial, and cultural hub of the United States in the twentieth century—was separated from the mainland by two major rivers to the west and east, a deep-water estuary to the south, and the Harlem River to the north.
Kurt Schlichting is the E. Gerald Corrigan Endowed Chair in the Humanities and Social Sciences and professor of sociology and anthropology at Fairfield University. He is also the author of Grand Central Terminal: Railroads, Architecture and Engineering in New York.
Click here to listen to the program
January 8, 2013 6:30PM-8PM

Regina Lee Blaszczyk Book Talk
THE COLOR REVOLUTION
(Lemelson Center Studies in Invention and Innovation series; August 2012)
When the fashion industry declares that lime green is the new black, or instructs us to "think pink!," it is not the result of a backroom deal forged by a secretive cabal of fashion journalists, designers, manufacturers, and the editor of Vogue. It is the latest development of a color revolution that has been unfolding for more than a century. In this book, the award-winning historian Reggie Blaszczyk traces the relationship of color and commerce, from haute couture to automobile showrooms to interior design, describing the often unrecognized role of the color profession in consumer culture. As a tie-in to the URBAN FABRIC exhibit, Blaszczyk will focus her talk on America's first color forecasters and their relationship to Seventh Avenue garment manufacturers and Fifth Avenue retailers in the 1920s and 1930s.
Reggie Blaszczyk is a Visiting Scholar at the University of Pennsylvania and an editor at the Journal of Design History. She is the author of seven books, including Imagining Consumers: Design and Innovation from Wedgwood to Corning; Producing Fashion: Commerce, Culture, and Consumers; and American Consumer Society, 1865-2005: From Hearth to HDTV.
Click here to listen to the program
December 5, 2012 6:30PM-8PM

Rebecca Kobrin & Andrew Dolkart Book Talk
CHOSEN CAPITAL: THE JEWISH ENCOUNTER WITH AMERICAN CAPITALISM
(Rutgers University Press; August 2012)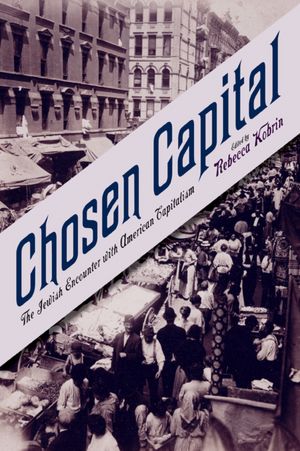 Edited by Prof. Rebecca Kobrin of Columbia University, the collection of essays in Chosen Capital examines the impact of Jewish immigrants and residents on American capitalism as both its architects—through their participation in specific industries—and as its most vocal critics through their support of unionism and radical political movements. Two chapters address New York's garment industry, including one by Andrew Dolkart, who traces the rags-to-riches career of developer Abraham E. Lefcourt. After an overview based on her introduction, "The Chosen People in the Chosen Land," Professors Kobrin and Dolkart will discuss the extraordinary dominance of Jews in the creation and culture of "Seventh Avenue."
Rebecca Kobrin is the Russell and Bettina Knapp Assistant Professor of American Jewish History at Columbia University. She has published widely on issues concerning American Jewish history and East European Jewish migration and is the author of Jewish Bialystok and Its Diaspora, a finalist for the National Jewish Book Award. Andrew S. Dolkart is the guest curator for URBAN FABRIC.
Click here to listen to the program
November 29, 2012 6:30PM-8PM

Thomas E. Rinaldi Book Talk
NEW YORK NEON
(W.W. Norton & Co.; November 2012)
Thomas E. Rinaldi treats New York City like an open-air museum of signs, capturing the glow of 200 surviving early- and mid-twentieth-century signs. In a generously illustrated introduction, drawing on documents including rare period trade publications, Rinaldi recounts the development of signage and the technological evolution of neon and examines its role in the streets of New York, in America's cultural identity, and in our collective consciousness.
Raised near Poughkeepsie in upstate New York, Thomas E. Rinaldi visited New York City frequently before moving there in 2004. His life-long interest in the city's built landscape drove him to pursue a career in architecture: he works as a designer for Thornton Tomasetti, a leading engineering and architecture firm. Rinaldi holds degrees in history from Georgetown University and in historic preservation from Columbia University. He is the coauthor, with Robert J. Yasinsac, of Hudson Valley Ruins: Forgotten Landmarks of an American Landscape.
October 15, 2012 6:00PM-7:30PM
at Edmond J. Safra Hall, Museum of Jewish Heritage
36 Battery Place across the street from The Skyscraper Museum

Richard Hassell Lecture
WOHA: BREATHING ARCHITECTURE
The Skyscraper Museum introduced a new lecture series WHAT'S UP? which highlights innovative high-rise architecture around the world. The series started with the work of WOHA, an internationally-acclaimed practice based in Singapore, established in 1994 by Richard Hassell and Wong Mun Summ. With a particular focus on Asia and the tropics, WOHA explores architectural strategies in response to contemporary issues of urbanization, density, sustainability, and climate. Their award-winning 69-story skyscraper in the heart of Bangkok, The Met, is a naturally-ventilated green tower that employs both public and private sky terraces and gardens in a new model for high-density urbanism.
Richard Hassell, co-Founding Director of WOHA, discussed Breathing Architecture, an overview of the firm's recent work, from high-rise public housing to a visionary city of 5 million on just 45 square kilometres. The title refers to the climate-based approaches to sustainable design explored in the firm's recent monograph and in a travelling exhibition of their work organized by the Deutsches Architekturmuseum in Frankfurt, Germany.
Comment: Cathleen McGuigan, Editor in Chief, Architectural Record
Click here to listen to the program
October 9, 2012 6:30PM-8PM

Susan Tunick and Andrew S. Dolkart Lecture
ALMOST ANONYMOUS & UBIQUITOUS:
THE SPECULATIVE ARCHITECTURE OF GEORGE & EDWARD BLUM
In the 1910s and 1920s, the prolific architectural firm of George & Edward Blum worked closely with speculative builders to design a large number of New York City's apartment buildings and commercial structures. The Blum brothers were among the most active architects in the Garment District, designing nineteen lofts.
Susan Tunick and Andrew Dolkart, guest curator for URBAN FABRIC, are co-authors of George & Edward Blum: Texture and Design in New York Apartment House Architecture (1986). They expand their close study of the firm's characteristic aesthetics, focusing in this illustrated lecture on their commercial loft buildings.
Susan Tunick is a national spokesperson for the preservation of architectural terra cotta and an established artist living and working in New York. She is the president of the Friends of Terra Cotta and has written extensively on terra cotta and tile, contributing to a renewed interest in the use and preservation of architectural ceramics. She is the author of Terra-Cotta Skyline (Princeton Architectural Press, 1997), which won that year's New York Society Library Award: Best Book on NYC.
Click here to listen to the program
October 7, 2012 1:00PM-2:30PM

Walking Tour of the Garment District

Exhibition curator Andrew S. Dolkart led a 90-minute walking tour of the Garment District, focusing on the history of the key developers and architectural firms who designed and built in the 1920s the high-rise lofts and showrooms that constitute the greatest concentration of skyscraper factories in the world.
October 4, 2012 3:25PM-4:25PM

Carol Willis at Architectural Record's Innovation Conference
SUPERTALL CASE STUDIES: TECHNIQUE, PRACTICE & DESIGN
More SUPERTALL!
Museum Director Carol Willis moderated a panel discussion on "Supertall Case Studies: Technique, Practice & Design" at the annual
Architectural Record
Innovation Conference on October 4th. The speakers included the "cloud club" of designers of the world's tallest buildings:
William F. Baker, PE, SE, FASCE, FIStructE
, Structural & Civil Engineering Partner, SOM, LLP
Gordon Gill, AIA
, Partner, Adrian Smith + Gordon Gill Architecture
William Pedersen, FAIA FAAR
, Vice Chairman, Kohn Pedersen Fox Associates
September 12, 2012 3:00PM

Urban Fabric: Curator's Tour
Guest-curator Andrew Dolkart conducted a tour of the current exhibit Urban Fabric.
September 6, 2012 6:30PM-8PM

Charles D. Warren Lecture
SAVING THE LIONS' CAGE: NYPL'S MULTI-STORY STACKS
In this lecture of approximately one hour, architect and author Charles Warren discusses the history and construction of the stacks and their integral role in one of New York's most celebrated civic buildings.
The New York Public Library's plan to remove millions of books from its century-old building at Fifth Avenue and 42nd Street has elicited a roar from many writers and scholars. But there has been little comment about the historic value of the remarkable book stacks that will be destroyed once the shelves are emptied. This construction of steel and iron, like a skyscraper frame threaded with curtain-walls of books, is the innovation at the core of the Library's ingenious organizational scheme. The characters involved in its invention and construction include a celebrated surgeon, an unsung engineer, a Southern foundryman, and several of the most important architects of the era.
Charles D. Warren is principal of the Manhattan firm, Charles Warren Architect. He is the co-author of the two-volume monograph, Carrere & Hastings Architects and author of other books and essays on architecture and town planning.
Click here to listen to the program
August 7, 2012 6:30PM-8PM

Andrew Blum Book Talk
TUBES: A JOURNEY TO THE CENTER OF THE INTERNET
(Ecco, an imprint of HarperCollins; June 2012)
Everyone thinks they know the Internet. The most powerful information network ever conceived—an indispensable tool and constant companion in both our professional and personal lives. We're all connected but connected to what? In TUBES: A Journey to the Center of the Internet by Andrew Blum, acclaimed young journalist Andrew Blum takes readers on a fascinating journey to find out.
Andrew Blum writes about architecture, infrastructure and technology for many publications, including The New Yorker, the New York Times, Bloomberg BusinessWeek,, Slate, and Popular Science. He is a correspondent for Wired, a contributing editor to Metropolis, and lives in his hometown of New York City.
Click here to listen to the program
July 31, 2012 6:30PM-8PM

Constance Rosenblum Book Talk
BOULEVARD OF DREAMS: HEADY TIMES, HEARTBREAK, AND HOPE ALONG THE GRAND CONCOURSE IN THE BRONX
(NYU Press, August 2009)
Stretching over four miles through the center of the West Bronx, the Grand Boulevard and Concourse, known simply as the Grand Concourse, has gracefully served as silent witness to the changing face of the Bronx and New York City. For a century, it has truly been a boulevard of dreams for various upwardly mobile immigrant and ethnic groups. Constance Rosenblum unearths the colorful history of this grand street and its interlinked neighborhoods. With a seasoned journalist's eye for detail, she paints an evocative portrait of the Concourse through compelling life stories and historical vignettes. The story of the creation and transformation of the Grand Concourse is the story of New York—and America—writ large, and Rosenblum examines the Grand Concourse from its earliest days to the blighted 1960s and 1970s, right up to the current period of renewal.
Constance Rosenblum was the longtime editor of the City section of The New York Times, a Sunday section that used the techniques of narrative nonfiction to explore issues affecting New York City and the texture of life in the five boroughs. From 1990 to 1997, she was editor of the paper's Arts and Leisure section, and previous to that she was deputy Arts and Leisure editor. Prior to joining The Times, she was culture editor of The Philadelphia Inquirer and a reporter and editor at The New York Daily News.
In addition to Boulevard of Dreams, she is the author of Gold Digger: The Outrageous Life and Times of Peggy Hopkins Joyce, a biography of a Jazz Age celebrity, published by Metropolitan Books/Henry Holt. She is also the editor of two collections of essays: "New York Stories: The Best of the City Section of The New York Times" and "More New York Stories," both published by NYU Press. Rosenblum currently writes the Habitats column in the Sunday Real Estate section of The Times, and a collection of her columns will be published next year by NYU Press.
Click here to listen to the program
July 26, 2012 6:30PM-8PM

Andrew Dolkart Lecture
DEVELOPING THE GARMENT DISTRICT
The Ladies' Garment Industry was New York City's largest employer in the first half of the 20th century, and "Seventh Avenue" was the city's most famous industry. While much has been written about the history of the unions and of fashion in general, this lecture and the related URBAN FABRIC exhibition focus on the architecture and development of the Garment District. Curator Andrew Dolkart discusses the character of the high-rise lofts and the forces that led to the creation of one of New York's most distinctive neighborhoods.
Andrew Dolkart is the James Marston Fitch Professor of Historic Preservation at Columbia University's Graduate School of Architecture of Architecture, Planning, and Preservation. He has written extensively about the architecture and development of New York, including the award-winning Morningside Heights: A History of Its Architecture and Development and the Guide to New York City Landmarks. He is well-known for his walking tours of New York City neighborhoods.
Click here to listen to the program
June 19, 2012 6:30PM-8PM

Eric Firley Book Talk
THE URBAN TOWERS HANDBOOK
(written with Julie Gimbal and Philippe Honnorat)
(Wiley, July 2011)
For well over a century, the modern skyscraper has provided an ingenious solution to high-density living and working. In the contemporary context of drastic urban growth, its role can only gain in importance. Firley analyzes fifty case studies—from Rockefeller Center in Manhattan to Sheikh Zayed Road in Dubai, from Hong Kong to São Paulo—to explore how planning authorities use tall buildings to realize their urban goals and visions, and addresses the uneasy relationship between high-rise structures and sustainability.
Eric Firley is a French-German architect and urban designer. He is an Assistant Professor at the University of Miami School of Architecture and heads an international research consultancy. In addition to The Urban Towers Handbook, Firley is the author of The Urban Housing Handbook (Wiley, 2011), written with Caroline Stahl.
Click here to listen to the program
June 5, 2012 6:30PM-8PM

Carol Willis Lecture
BUILDING / TYPE:
New York's Newspaper Towers
Curator Carol Willis reflects on the research for the exhibition News PAPER Spires and proposes that New York's early newspaper headquarters represent an extraordinary new form of high-rise: vertical urban factories that exploit technological advances in both printing and building construction to multiply the real estate advantages of prime locations. The lecture traces the rise of the signature towers of "Newspaper Row," on the east side of City Hall Park, from the 1870s through the early 1900s, then the migration uptown that spawned both Times Square and the E. 42nd Street axis with the headquarters of the Daily News.
Carol Willis is the founder and director of the Skyscraper Museum and a professor of Urban Studies at Columbia University's Graduate School of Architecture, Preservation and Planning. She is also the author of Form Follows Finance and co-author of Building the Empire State with Donald Friedman.
Click here to listen to the program
May 23, 2012 6:30PM-8PM

Samuel C. Florman, in conversation with Carol Willis
GOOD GUYS, WISEGUYS, AND PUTTING UP BUILDINGS:
A LIFE IN CONSTRUCTION
(Thomas Dunne Books, March 2012)
After more than five decades as a general contractor in New York City, Samuel Florman, chairman of Kreisler Borg Florman General Construction Company, has many stories to tell. An engineer with a gift for prose, he has published six books, including The Existential Pleasures of Engineering and The Introspective Engineer, as well as more than 250 articles. His new autobiographical volume Good Guys, Wiseguys, and Putting Up Buildings: A Life in Construction, recounts his career from the 1950s, amidst the rise of the notorious Mafia families and evolution of the Civil Rights Movement. Along with the rousing adventures, Florman writes of his enchantment with seeing architecture made real and the pride of creating housing, hospitals, schools, places of worship—shelter for the body and nourishment for the spirit. After a conversation about his career with the museum's director, Carol Willis, Florman engaged in Q & A with the audience.
Samuel Florman is the chairman of Kreisler Borg Florman General Construction Company.
Click here to listen to the program
In conjunction with the current exhibition News PAPER Spires, the Museum is presenting a series of lectures that examine the architectural history of New York's earliest skyscrapers and the role of publishers and newspaper in the urban culture of the city.
May 5, 2012 11:00AM

Thorin Tritter Walking Tour
FROM WALL STREET TO PARK ROW: THE HISTORY OF NEWSPAPERS IN NEW YORK
Thorin Tritter serves as the Managing Director of Fellowships at Auschwitz for the Study of Professional Ethics (FASPE) at the Museum of Jewish Heritage. He is currently a research fellow in the School of Advanced Study at the University of London working on a project about the history of book publishing in North America. In addition to his academic work, he has worked as a tour guide for Big Onion Walking Tours for more than 10 years.
April 25, 2012 6:30PM-8PM

James McGrath Morris Book Talk
PULITZER: A LIFE IN POLITICS, PRINT, AND POWER
(Harper Collins, February 2010)
Like Alfred Nobel, Joseph Pulitzer is better known today for the prize that bears his name than his contribution to history. Yet, in 19th-century industrial America, while Carnegie provided the steel, Rockefeller the oil, Morgan the money, and Vanderbilt the railroads, Pulitzer invented the modern mass media. Pulitzer traces the epic story of this Jewish Hungarian immigrant's rise through American politics and into journalism, where he accumulated immense power and wealth, only to fall blind and become a lonely tormented recluse wandering the globe -- but not before Pulitzer transformed American journalism into a medium of mass consumption and immense influence.
James McGrath Morris is the editor of the monthly Biographer's Craft and serves as the Executive Director of Biographers International Organization. His previous book, The Rose Man of Sing Sing: A True Tale of Life, Murder, and Redemption in the Age of Yellow Journalism, was selected as a Washington Post Best Book of the Year for 2004. He is currently working on the biography of journalist Ethel L. Payne.
Click here to listen to the program
April 24, 2012 6:30PM-8PM

Donald Friedman Lecture
STRUCTURAL SYSTEMS OF EARLY SKYSCRAPERS:
THE CASE FOR NEW YORK
Donald Friedman, a structural engineer, is the president of Old Structures Engineering and lives in New York City. He is the author of Historical Building Construction; After 9-11: An Engineer's Work at the World Trade Center; The Investigation of Buildings; The Design of Renovations, with Nathaniel Oppenheimer; and Building the Empire State with Carol Willis.
Click here to listen to the program
April 10, 2012 6:30PM-8PM

Lee Gray Lecture
THE 1875 NEW YORK TRIBUNE BUILDING:
THE TALL TOWER OF WHITELAW REID
Lee Gray is an Associate Professor of Architectural History in the School of Architecture and Associate Dean in the College of Arts + Architecture at the University of North Carolina at Charlotte. An expert on early commercial buildings, Lee Gray is the author of From Ascending Rooms to Express Elevators: A History of the Passenger Elevator in the 19th Century. He has written monthly articles on the history of vertical transportation for Elevator World Magazine since 2003.
March 19, 2012 6:30PM-8PM

Kathryn Holliday Lecture
A TOWER TO "WAKE UP THE NATION:"
THE NEW YORK TIMES IN TIMES SQUARE
Kathryn Holliday is an architectural historian and Assistant Professor at the School of Architecture at the University of Texas at Arlington. Her research focuses on American architecture and theory, particularly interactions with Europe. Her book Leopold Eidlitz: Architecture and Idealism in the Gilded Age (W. W. Norton, 2008) won the 2008 Book of the Year Award from the southeast chapter of the Society of Architectural Historians. Her new book Ralph Walker: Architect of the Century will be published by Rizzoli this fall.
Click here to listen to the program
May 2 & 23, and June 6, 2012 3:00PM

Curator's Tour
Museum Director and Curator Carol Willis conducted curator's tours of the current exhibit News PAPER Spires!
March 7, 2012 6:30PM-8PM

Angus Kress Gillespie Book Talk
CROSSING UNDER THE HUDSON: THE STORY OF THE HOLLAND AND LINCOLN TUNNELS
(Rutgers University Press, August 2011)
Crossing under the Hudson takes a fresh look at the planning and construction of two key links in the transportation infrastructure of New York and New Jersey--the Holland and Lincoln Tunnels. Writing in an accessible style that incorporates historical accounts with a lively and entertaining approach, Gillespie explores these two monumental works of civil engineering and the public who embraced them. He describes and analyzes the building of the tunnels, introduces readers to the people who worked there--then and now--and places the structures into a meaningful cultural context with the music, art, literature, and motion pictures that these tunnels, engineering marvels of their day, have inspired over the years.
Angus Kress Gillespie is a Fulbright professor and teaches American Studies at Rutgers University. Gillespie is also the author of Twin Towers: The Life of New York Citys Trade Center and the coauthor of Looking for America on the New Jersey Turnpike (both Rutgers University Press).
Click here to listen to the program
February 22, 2012 6:30PM-8PM

John Hill Book Talk
GUIDE TO CONTEMPORARY NEW YORK CITY ARCHITECTURE
(W. W. Norton & Company, December 2011)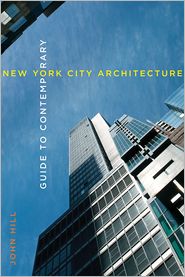 This essential walking companion and guide features 200 of the most notable buildings and spaces constructed in New York since 2000. Grouped by neighborhood, this richly illustrated guide allows for easy, self-guided tours, with photos, maps, and directions. Join the author for an engaging talk on some of his favorites.
John Hill is a registered architect who writes about contemporary architecture and "archi-tourism." He is the U.S. representative and editor for WorldArchitects.com and has published articles in Architect Magazine, The Architect's Newspaper, and eVolo.
Click here to listen to the program
January 10, 2012 6:30PM-8PM

John Tauranac Book Talk
NEW YORK FROM THE AIR: A STORY OF ARCHITECTURE
(Yann Arthus-Bertrand, Photographer)
(Harry Abrams, September 2011)
John Tauranac knows architectural New York, but even he was stumped by some of the subjects that the great aerial photographer Yann Arthus-Bertrand shot for their newest book. Tauranac takes it all with a sense of humor and more than a dash of humility as he discusses some of the mysteries with which he was presented. He will share the stories with you, and he'll show some of his favorite photographs from this glorious book and tell the tales behind them.
John Tauranac writes on New York's architectural history, teaches the subject, gives tours of the city, and designs maps. He also teaches New York history and architecture at NYU's School of Continuing & Professional Studies, where he is an adjunct associate professor. He was named a Centennial Historian of the City of New York by the Mayor's Office for his work in history in 1999, and he was awarded a Commendation for Design Excellence by the U. S. Department of Transportation and the National Endowment of the Arts in 1980 for his design contributions to the 1979 subway map.
Yann Arthus-Bertrand is a world famous photographer renowned for his aerial photography. His work includes the bestseller The Earth from Above, which has sold over a million copies. He lives in France.
Click here to listen to the program
December 7 & 14, 2011

Curator's Tour
Museum Director and Curator Carol Willis led a gallery tour of the current exhibit Supertall!



December 1, 2011

Kate Ascher Book Talk
THE HEIGHTS: ANATOMY OF A SKYSCRAPER
(Penguin Press, November 2011)
The skyscraper is perhaps the most recognizable icon of the modern urban landscape. Providing offices, homes, restaurants, and shopping to thousands of inhabitants, modern skyscrapers function as small cities- with infrastructure not unlike that hidden beneath our streets. Clean water is provided to floors thousands of feet in the sky; elevators move people swiftly and safely throughout the building; and telecom networks allow virtual meetings with people on other continents. How are these services-considered essential, but largely taken for granted- possible in such a complex structure? What does it really take to sustain human life at such enormous heights?
Exploring the interconnected systems that make life livable in the sky is the task of Kate Ascher's stunningly illustrated The Heights: Anatomy of a Skyscraper. Ascher examines skyscrapers from around the world to learn how these incredible structures operate. Along the way, The Heights introduces the reader to every type of person involved in designing, building, and maintaining a skyscraper: the designers who calculate how weight and weather will affect their structures, the workers who dig the foundations and raise the lightning rods, the crews who clean the windows and maintain the air ducts, and the firefighters whose special equipment allows blazes to be fought at unprecedented heights.
Kate Ascher is author of The Works: Anatomy of a City. She received her M.Sc. and Ph.D. in government from the London School of Economics and her B.A. in political science from Brown University. She formerly served as assistant director of the Port at the Port Authority of New York and New Jersey and worked overseas in corporate finance, before her previous position as executive vice president of the Economic Development Corporation for City of New York. Currently, she is a Principal at Happold Consulting in New York and in fall 2011 will begin to serve as the new Milstein Professor of Urban Development at Columbia University, GSAPP.
Click here to listen to the program
November 9, 2011

Daniel Okrent Book Talk
LAST CALL: THE RISE AND FALL OF PROHIBITION
(Simon & Schuster May 2010)
That Americans would ever agree to relinquish alcohol was as improbable as it was astonishing. Yet we did, and Last Call is Daniel Okrent's dazzling explanation of why we did it, what life under Prohibition was like, and how such an unprecedented degree of government interference in the private lives of Americans changed the country forever.
Writing with both wit and historical acuity, Okrent reveals how Prohibition marked a confluence of diverse forces: the growing political power of the women's suffrage movement, which allied itself with the antiliquor campaign; the fear of small-town, native-stock Protestants that they were losing control of their country to the immigrants of the large cities; the anti-German sentiment stoked by World War I; and a variety of other unlikely factors, ranging from the rise of the automobile to the advent of the income tax.
Daniel Okrent was the first public editor of The New York Times, editor-at-large of Time, Inc., and managing editor of Life magazine. He worked in book publishing as an editor at Knopf and Viking, and was editor-in-chief of general books at Harcourt Brace. He is author of four books, one of which, Great Fortune, was a finalist for the 2004 Pulitzer Prize in history. Okrent was also a fellow at the Shorenstein Center at the Kennedy School of Government at Harvard, where he remains an Associate. He lives in Manhattan and on Cape Cod with his wife, poet Rebecca Okrent.


October 12, 19, 2011

Curator's Tours
Museum Director and Curator Carol Willis led a gallery tour of the current exhibit Supertall!
October 5, 2011

Paul Shaw Book Talk
HELVETICA AND THE NEW YORK CITY SUBWAY SYSTEM
(The MIT Press 2011)
More than a tale of a typeface. If you use subways or select fonts, you'll enjoy this book talk! There is a common belief, reinforced by Gary Hustwit's documentary film "Helvetica," that Helvetica is the signage typeface of the New York City subway system. But it is not true - or rather, it is only somewhat true. Helvetica is the official typeface of the MTA today, but it was not the typeface specified by Unimark International when they created the signage system at the end of the 1960s. Why was Helvetica not chosen originally? what was chosen in its place? why is Helvetica now used? when did the changeover occur? Paul Shaw answers these questions and then goes beyond them to look at how the subway's signage system has evolved over the past forty years. The resulting story is more than a tale of a typeface. It is a look at the forces that have molded a signage system.
Paul Shaw an award-winning graphic designer, typographer, and calligrapher in New York City, teaches at Parsons School of Design and the School of Visual Arts. He is the coauthor of Blackletter: Type and National Identity and writes about letter design in the blog Blue Pencil.


September 27, 2011

Andrew Alpern Book Talk
HOLDOUTS! THE BUILDINGS THAT GOT IN THE WAY
(David R. Godine Publisher 2011)
Holdouts are often thought of as David versus Goliath battles, but is David the little homeowner who doesn't want to abandon his hearth to the big heartless developer? Or is David the harried builder who has invested huge sums of money in buying up ninety percent of the land needed for development – whose benefits would be enjoyed by thousands of citizens – but whose plans are thwarted by the one landowner who controls the critical land parcel without which the project is doomed?
Holdouts! depicts with vivid clarity the colorful personalities and outrageous actions that emerge in these stark confrontations. It describes epic battles that have been fought to erect buildings in New York. More than 200 illustrations and photographs show the holdouts before, during, and after the construction they delayed. This unique pictorial history will delight architecture buffs, New Yorkers, urban historians, indeed anyone interested in the sometimes hectic, sometimes pathetic, and sometimes hilarious struggles of individuals against real estate developers whose projects are so essential to the continuing economic viability of our large cities.
This is the third appearance of a unique view of New York's real estate and architecture by Andrew Alpern and Seymour Durst with an additional foreword and revisions.
Andrew Alpern is a much-published architectural historian, architect, and attorney. His co-author, the late Seymour Durst, was a major real estate developer whose own encounters with holdouts were the impetus for the book's original version more than 25 years ago.


September 11, 2011

John Bartelstone Gallery Talk

John Bartelstone gave a talk about his photographs, featured in our gallery, on the decade of recovery and rebuilding at Ground Zero.


AUGUST 3, 10 and 24, 2011
Curator's Tour
SUPERTALL!
Museum Director and Curator Carol Willis led a gallery tour of the current exhibit Supertall!


AUGUST 2, 2011
Ann Ferebee & Jeff Byles Book Talk
A HISTORY OF DESIGN FROM THE VICTORIAN ERA TO THE PRESENT Second Edition
Click here to listen to the program
A unique cross-disciplinary survey of design history, A History of Design from the Victorian Era to the Present offers a concise overview of the modern milestones of architecture, interior design, graphic design, product design, and photography from the Crystal Palace of 1851 to the iPhone at the turn of the twenty-first century. This abundantly illustrated volume traces modern design across continents and cultures, highlighting the key movements and design traditions that have shaped the world around us.
This new edition of a classic text first published in 1970 expands coverage to include developments in design over the last forty years, with emphasis on its global reach, the impact of the digital revolution, and new trends in sustainable design that will shape the century to come.
Ann Ferebee is founder of the Institute for Urban Design, a membership organization for landscape architects, architects, and planners, of which she is now director emerita. In the early 1960s she launched Design and Environment, with a special focus on landscape architecture and the design of public space. She also taught the history of modern architecture and design at the Pratt Institute and the Parsons School of Design.
Jeff Byles is an author and journalist who has written about architecture, urbanism, and culture for The New York Times, The Village Voice, Metropolis, Modern Painters, Cabinet, The Believer, and other publications. His book Rubble: Unearthing the History of Demolition was named a Best Book of the Year by The Village Voice and Time Out New York.


July 6, 2011
Mary Woods Book Talk
BEYOND THE ARCHITECT'S EYE: PHOTOGRAPHS AND THE AMERICAN BUILT ENVIRONMENT
(University of Pennsylvania Press 2009)
Typical architectural photography freezes buildings in an ideal moment and rarely captures what photographer Berenice Abbott called the medium's power to depict "how the past jostled the present." In Beyond the Architect's Eye, Mary N. Woods expands on this range of images through a rich analysis that commingles art, amateur, and documentary photography, genres usually not considered architectural but that often take the built environment as their subject.
Woods explores how photographers used their built environment to capture the disparate American landscapes prior to World War II, when urban and rural areas grew further apart in the face of skyscrapers, massive industrialization, and profound cultural shifts.
Mary N. Woods is Michael A. McCarthy Professor of Architectural Theory at Cornell University. She is the author of From Craft to Profession: The Practice of Architecture in Nineteenth-Century America.


JULY 13, 2011
CURATOR'S TOUR AND CLOSING RECEPTION
Guest-curator and architectural historian Nina Rappaport led a gallery tour and discussion of the impetus behind VUF and the state of manufacturing in cities.


June 28, 2011
James S. Russell Book Talk
THE AGILE CITY: BUILDING WELL-BEING & WEALTH IN AN ERA OF CLIMATE CHANGE
(Island Press 2011)
Click here for a video archive of the program
In a very short time the developed world has realized that global warming poses real challenges to the our future. The Agile City engages the fundamental question: what to do about it? Journalist and urban analyst James S. Russell argues that we'll more quickly slow global warming—and blunt its effects—by retrofitting cities, suburbs, and towns. The Agile City shows that change undertaken at the building and community level can reach carbon-reduction goals rapidly.
James S. Russell is the architecture columnist for Bloomberg News. He has written about cities, architecture, and environmental design for more than 20 years.


June 20, 2011
Domino: Old and New


Click here for a video archive of the program

A program on reinventing Williamsburg's historic industrial waterfront
At the Museum of Jewish Heritage, 36 Battery Place, Battery Park City
June 20, 2011
In the ongoing reinvention of Williamsburg's richly historic industrial waterfront into a burgeoning residential neighborhood, the massive Domino Sugar complex remains the greatest challenge and opportunity. With a site of 11.2 acres and a potential for 2200 residential units, including 30 percent of subsidized affordable housing, more than four acres of public open space, and the restoration and adaptive reuse of the landmarked refinery buildings, the Domino site is key to both the past and the future of this evolving neighborhood.

The program featured presentations by the principals of the development, design, engineering and construction teams, followed by a panel discussion.

Introduction & History
Carol Willis – Founder & Director, The Skyscraper Museum

The Refinery Buildings: Historic Preservation & Adaptive Reuse
Frederick A. Bland – Managing Partner, Beyer Blinder Belle Architects & Planners

Engineering Issues and the Construction Conundrum
Robert Silman – President, Robert Silman Associates
Frank Sciame – CEO, F. J. Sciame Construction Co., Inc.

New Housing Development and Urban Enhancements
Michael Lappin – President & CEO, Community Preservation Corporation

Panel Discussion moderated by
Julie V. Iovine, Exec. Editor of The Architect's Newspaper and architecture & design reporter and critic.



Click here to see further past programs.




The exhibitions and programs of The Skyscraper Museum are supported, in part, by public funds from the New York City Department of Cultural Affairs in partnership with the City Council.
The exhibitions and programs of The Skyscraper Museum are made possible by the New York State Council on the Arts with the support of Governor Andrew Cuomo and the New York State Legislature.