The Skyscraper Museum is devoted to the study of high-rise building, past, present, and future. The Museum explores tall buildings as objects of design, products of technology, sites of construction, investments in real estate, and places of work and residence. This site will look better in a browser that supports web standards, but it is accessible to any browser or Internet device.
UPCOMING PROGRAMS
BOOK TALKS AND PROGRAMS
The book talks and lectures below are held at
The Skyscraper Museum
from 6:30-8 pm and are free of charge, except when noted. The gallery and exhibition are open for viewing from 6 pm. To assure admittance, guests
must
RSVP to
programs[at]skyscraper[dot]org
with the name of the program you would like to attend.
Please be aware that reservation priority is given to Members of The Skyscraper Museum. Not a member?
Become a Museum member today!
The Skyscraper Museum offers CEUs for AIA members.
---
September 3rd, 2014 3:00 pm

Curator's Tour
Celebrate National Skyscraper Day at The Skyscraper Museum, Director and Curator Carol Willis will lead a tour of the Museum's new exhibit, TIMES SQUARE, 1984: The Postmodern Moment.
Monday, September 29, 2014 6:30PM-8PM

Scott Johnson Book Talk
PERFORMATIVE SKYSCRAPER: TALL BUILDING DESIGN NOW
(Princeton Architectural Press, June 2014)
In recent years, contemporary architectural theory and practice have shifted from a focus on how a building appears to how it performs. In the field of skyscraper design, the emergence of ultra-performing materials, interactive processing systems, and digital design and fabrication techniques are making remarkable new structures possible. In Performative Skyscraper, architect Scott Johnson describes how the combination of sophisticated modeling software and demands for ever-increasing environmental sustainability have led to an emphasis on high performance. From advanced window-walls to vertical mixed-use towers, Johnson captures the breadth and immediacy of skyscraper design now.
Scott Johnson is the founding design partner of the Los Angeles architecture firm, Johnson Fain. He has designed a wide variety of buildings worldwide and is currently working on high-rise buildings in Jakarta, Taichung City, and L.A., as well as mixed-use projects throughout the West Coast. He is a former Director of the Master of Architecture Programs at the USC School of Architecture and frequently lectures on the evolution of modern cities and the emergence of new building typologies. His previous books include The Big Idea: Criticality + Practice in Contemporary Architecture and Tall Building: Imagining the Skyscraper.
All guests
must
RSVP to
programs[at]skyscraper[dot]org
to assure admittance to the event. Please be aware that reservation priority is given to Members of The Skyscraper Museum. Not a member?
Become a Museum member today!
Judith Dupr&eacute Book Talk (stayed tuned for date rescheduled from spring 2014)
SKYSCRAPERS:
A HISTORY OF THE WORLD'S MOST EXTRAORDINARY BUILDINGS
Fourth Edition
(Black Dog & Leventhal Publishers; November 2013)
Skyscrapers captivate the eye, excite the imagination, and inspire awe and reverence. Wonders of artistic creativity and engineering ingenuity, of hard work and playful dreaming, skyscrapers embody the best of our practical achievements and reflect our highest aspirations. Judith Dupré's Skyscrapers invites you to enjoy the stunning works born of that quest, introducing readers to the world's most remarkable and beloved buildings while also exploring both the ancient roots of skyscrapers and visionary cities of the future.
This is a revised and updated version of Dupre's popular skyscraper survey, first published in 1996.
A graduate of Brown and Yale Universities, Judith Dupré is the author of several acclaimed books about architecture, including Bridges (BD&L), New York Times bestselling Churches and Monuments. A resident of New York, Dupré consults on large scale infrastructure projects and lectures at Yale and other universities.
All guests must RSVP to programs[at]skyscraper[dot]org to assure admittance to the event. Please be aware that reservation priority is given to Members of The Skyscraper Museum. Not a member? Become a Museum member today!



---
July 22, 2014 6:30PM-8PM

John Tauranac Book Talk
THE EMPIRE STATE BUILDING: THE MAKING OF A LANDMARK
(First Published 1995; New Edition, Cornell University Press; March 2014)
The Empire State Building is the landmark book on one of the world's most famous skyscrapers. John Tauranac focuses on the inception and construction of the building, as well as its history through the interwar years. In a new epilogue to the Cornell edition, Tauranac highlights the continuing resonance and influence of the Empire State Building in the rapidly changing post-9/11 cityscape.
John Tauranac writes on New York's architectural history, teaches and lectures, and gives tours of the city.  He is also a mapmaker. In 1997, he was the guest curator of A Dream Well Planned: The Empire State Building at the Museum of the City of New York. His books include New York from the Air, Elegant New York, Essential New York, and Seeing New York. A frequent contributor to New York newspapers and magazines,Tauranac is an adjunct associate professor at NYU's School of Continuing and Professional Studies.
Click here to watch the program.
June 26, 2014 6:30PM-8PM

Donald L. Miller Book Talk
SUPREME CITY: HOW JAZZ AGE MANHATTAN
GAVE BIRTH TO MODERN AMERICA
(Simon & Schuster; May 2014)
The 1920s Jazz Age in New York was a decade of rapid cultural and urban transformation. Innovations such as radio, tabloid newspapers, and movies with sound began to command the attention of New Yorkers, and as Times Square became America's movie mecca, the center of New York's cultural life shifted from downtown to Midtown. In Supreme City, Donald Miller charts Manhattan's modernization by delving into the era's brilliantly ambitious personalities and the engineering triumphs, including Grand Central Terminal and the Holland Tunnel, which shifted New York's commercial, social, and cultural hub to Midtown.
Donald Miller is the John Henry MacCracken professor of history at Lafayette College in Pennsylvania. He is the New York Times best-selling author of 7 books including Masters of Air: America's Bomber Boys Fought the Air War Against Nazi German. One of the country's most respected authorities of WWII and U.S. History, he is a consultant and advisor to historical productions on HBO and PBS.
Click here to watch the program.
June 11, 2014 3:00PM

SKY HIGH & the logic of luxury: Curator's Tour

Director and Curator Carol Willis will lead a tour of the current exhibit SKY HIGH & the logic of luxury.



May 22, 2014 6:30PM-8PM

William W. Buzbee Book Talk
FIGHTING WESTWAY: ENVIRONMENTAL LAW, CITIZEN ACTIVISM, AND THE REGULATORY WAR THAT TRANSFORMED NEW YORK CITY (Cornell University Press; April 2014)
From 1971 to 1985, legal and political battles raged over Westway, the controversial multibillion-dollar highway, development, and park project conceived for the Hudson River edge on Manhattan's Lower West Side. The most expensive highway project ever proposed, Westway provoked one of the highest stakes legal battles of its day. Drawing on archival records and interviews, legal scholar William W. Buzbee probes beneath the veneer of government actions and court rulings to illuminate the political pressures and strategic moves that shaped the Westway wars. Involving all branches of government, environmental laws, scientific conflict, strategic citizen action, trials and court cases, the history of Westway illuminates how urban priorities are contested and how separation of powers and federalism frameworks structure legal and political conflict.
William W. Buzbee is currently Professor of Law at Emory University School of Law and will be joining the law faculty at Georgetown University Law Center in the fall of 2014. He is co-author of Environmental Protection: Law and Policy and editor of Preemption Choice: The Theory, Law, and Reality of Federalism's Core Question. He has published in many leading law reviews.
Click here to watch the program.
May 14 and 28, 2014 3:00PM

SKY HIGH & the logic of luxury: Curator's Tour

Director and Curator Carol Willis conducted a tour of the current exhibit SKY HIGH & the logic of luxury.



April 29, 2014 6:30PM-8PM

James Sanders Book Talk
SCENES FROM THE CITY: FILMMAKING IN NEW YORK CITY (Rizzoli; March 2014)
Film historian and documentary writer James Sanders delighted his audience with a trove of movie memories taken from the new edition of Scenes from the City: Filmmaking in New York. This revised and expanded edition, first published in 2006, is a celebration of the rise of New York-shot films, covering in particular the decades since NYC aggressively promoted the film industry through the Mayor's Office of Film, Theatre and Broadcasting, established in 1966. James Sanders updates the past dozen years of filmmaking under the Bloomberg administration and adds a section on women filmmakers, as well as rare, behind-the-scenes shots directly from studio archives. The book also explores the recent growth of the City's television industry. Today the entertainment industry employs 130,000 New Yorkers and contributes more than $7 billion to the local economy each year.
James Sanders, an architect, co-wrote the Emmy Award-winning PBS series New York: A Documentary Film and its companion volume, New York: An Illustrated History, as well as Celluloid Skyline: New York and the Movies. He has written for the New York Times, the Los Angeles Times, Vanity Fair and Architectural Record. He has also participated in important design projects in and around the city.
Click here to watch the program.
April 2, 16, and 30, 2014 3:00PM

SKY HIGH & the logic of luxury: Curator's Tour
Director and Curator Carol Willis conducted a tour of the current exhibit SKY HIGH & the logic of luxury.





March 25, 2014 6:30PM-8PM
*Previously scheduled for March 11, 2014.

May Joseph Book Talk
FLUID NEW YORK: COSMOPOLITAN URBANISM AND THE GREEN IMAGINATION
(Duke University Press Books; July 2013)
Hurricane Sandy was a fierce demonstration of the ecological vulnerability of New York, a city of islands. Yet the storm also revealed the resilience of a metropolis that has started during the past decade to reckon with its aqueous topography. In Fluid New York, May Joseph describes the many ways that the city and its citizens have begun to incorporate the urban archipelago ecology into plans for a livable and sustainable future.
May Joseph's reflections reach back to the city's heyday as a world-class port—a past embodied in a Dutch East India Company cannon recently unearthed from the rubble at the World Trade Center site. They also encompass the devastation caused by Hurricane Sandy and suggest that the city's future lies in the reclamation of its great water resources—for artistic creativity, civic engagement, and ecological sustainability.
May Joseph is Professor of Social Science at the Pratt Institute, where she teaches urbanism, global studies, and visual culture. She is the founder of Harmattan Theater, which produces site-specific outdoor productions exploring the history of New York City through its architecture, design, and natural environment Joseph is also the author of Nomadic Identities: The Performance of Citizenship and a coeditor of Performing Hybridity.
Click here to listen to the program
March 11, 2014 6:30PM-8:00PM

Mirror, mirror... who is the slenderest of them all?

111 W. 57TH ST.

At Edmond J. Safra Hall, Museum of Jewish Heritage
36 Battery Place, across the street from The Skyscraper Museum.

Courtesy of SHoP Architects
Speakers:
Vishaan Chakrabarti, Partner, SHoP Architects
Gregg Pasquarelli, Partner, SHoP Architects
Silvian Marcus, Principal in Charge, WSP Group
Panel discussion, moderated by Carol Willis, Director of the Skyscraper Museum:
SHoP Architects, WSP Group, and developer Michael Stern, Managing Partner, JDS Development Group
Among the extraordinary new crop of New York's super-slim, ultra-luxury residential towers surveyed in The Skyscraper Museum's exhibition SKY HIGH & the logic of luxury, the most slender of all is the 111 W. 57th St., designed by SHoP Architects, with structural engineering by WSP Group for JDS Development Group and Property Markets Group. With a ratio of the width of the base to height of 1:23, the 1,350+ ft tower will be the most slender building in the world.
SHoP's design harkens back to the quality, materiality, and emphatic verticality of historic NYC skyscrapers, while utilizing advanced engineering and technology to craft a contemporary contribution to the skyline. The tower's silhouette rises in an elegant series of feathered setbacks, while the façade reads at multiple scales and vantage points. An intricate pattern of shaped terracotta panels and bronze latticework on the east and west façades creates a sweeping play of light and shadow, while a glass curtain wall on the north and south façades provide sweeping views of Central Park and Midtown.
SHoP Architects was founded in 1996 on a premise of proving that intelligent and evocative architecture can be made in the real world, with real world constraints, and has made a name for itself by pioneering the use of innovative technologies to produce both iconic architectural forms and a new model for the profession.
WSP is one of the world's leading professional services firms. Its New York-based structural engineer, the WSP Group (formerly Cantor Seinuk) are the designers of the structural systems for a majority of the city's super-slender towers now under construction.
The exhibition was open to the public from 5:00 to 6:30 before the lecture.
This lecture was presented with
the generous support of
JDS Development Group.


Click here to listen to the program.
March 5 and 19, 2014 3:00PM

SKY HIGH & the logic of luxury: Curator's Tour
Director and Curator Carol Willis conducted a tour of the current exhibit SKY HIGH & the logic of luxury.





February 24, 2014 6:30PM-8PM

Rafael Viñoly Lecture
432 PARK AVENUE AND OTHER TOWERS
This lecture was held in the auditorium of the National Museum of the
American Indian, Alexander Hamilton U.S. Custom House, 1 Bowling Green
Rafael Viñoly is the founding principal of Rafael Viñoly Architects PC, a New York-based firm with an international practice. Viñoly's award-winning designs include museums, performing arts centers, convention centers, and numerous research and academic buildings and complexes. His commercial high-rise work began in the 1980s, and he explored innovative forms and structural strategies in several projects, including the post-9/11 WTC competition, in which the collaborative design of the THINK team for a World Cultural Center was a finalist.
Taller than the rooftop of either the original or current 1 WTC, 432 Park Avenue will top out in 2015 at 1,396 feet, making it–in the words of its developers Macklowe Properties and the CIM Group–the loftiest residence "in the Western Hemisphere." Exemplifying "the logic of luxury," the tower's soaring height is predicated on its compact 93-foot square floor plate and extra-high ceilings, which produce its slenderness ratio of 1:15. The emphatic white grid of the concrete frame, divided into six sections by open mechanical floors, represents an integration of the elegant architectural concept and structural logic that sets 432 Park Avenue apart from curtain-wall contemporaries.
Rafael Viñoly discussed the design of 432 Park Avenue in the context of his high-rise work and design philosophy.
There was be a Q & A after the talk moderated by Cathleen McGuigan, editor in chief of Architectural Record.
This lecture was presented with
generous support of Enclos.


Click here to listen to the program.
February 21 and 28, 2014 5:00PM

SKY HIGH & the logic of luxury: Curator's Tour
Director and Curator Carol Willis conducted a tour of the current exhibit SKY HIGH & the logic of luxury.





February 18, 2014 6:30PM-8PM

Alexandros Washburn Book Talk
THE NATURE OF URBAN DESIGN: A NEW YORK PERSPECTIVE ON RESILIENCE
(Island Press; May 2013)
In his visually rich book The Nature of Urban Design, Alexandros Washburn argues that the best cities become an ingrained part of their residents' identities and that the strength of our communities will determine how we respond to crises like Hurricane Sandy, whose floodwaters he watched from his home in Red Hook, Brooklyn. Urban design is the key to this process, but all too often, citizens abandon it to professionals, unable to see a way to express what they love and value in their own neighborhoods. His book strives to empower urbanites and offer a new approach to design that will help cities to prosper in an uncertain future.
Alexandros Washburn is a professor at the Stevens Institute of Technology, former Chief Urban Designer of the New York City Department of City Planning and former Public Works Advisor and chief architect for Senator Daniel Patrick Moynihan. He lives in Red Hook, Brooklyn.
Click here to listen to the program
February 5, 2014 3:00PM

SKY HIGH & the logic of luxury: Curator's Tour
Director and Curator Carol Willis conducted a tour of the current exhibit SKY HIGH & the logic of luxury.
February 4, 2014 6:30PM-8PM
*Previously scheduled for January 28, 2014.

Vishaan Chakrabarti Book Talk
A COUNTRY OF CITIES: A MANIFESTO FOR AN URBAN AMERICA
(Metropolis Books; May 2013)
In A Country of Cities, Vishaan Chakrabarti argues that well-designed cities are the key to solving America's great national challenges: environmental degradation, unsustainable consumption, economic stagnation, rising public health costs and decreased social mobility. If we develop them wisely in the future, our cities can be the force leading us into a new era of progressive and prosperous stewardship of our nation. Through clear, accessible prose and a distinct visual language of original illustrations created by SHoP Architects, Chakrabarti delivers a wealth of information about cities, suburbs and exurbs, looking at how they developed across the 50 states and their roles in prosperity and globalization, sustainability and resilience, and heath and joy.
Vishaan Chakrabarti, AIA, is the director of Columbia University's Center for Urban Real Estate (CURE). An architect and planner, Chakrabarti has worked in both the public and private sectors: as a director at the New York City Planning Commission; an associate partner at Skidmore, Owings & Merrill; a transportation planner for the Port Authority of New York and New Jersey and as an executive at the Related Companies. In March 2012, Chakrabarti became a partner at SHoP Architects.
Click here to listen to the program
January 14, 2014 6:30PM-8PM

Constance Rosenblum Book Talk
HABITATS: PRIVATE LIVES IN THE BIG CITY
(New York University Press; March 2013)
There may be eight million stories in the Naked City, but there are also nearly three million dwelling places, ranging from Park Avenue palaces to Dickensian garrets and encompassing much in between. The doorways to these residences are tantalizing portals opening onto largely invisible lives. Habitats offers 40 vivid and intimate stories about how New Yorkers really live in their brownstones, their apartments, their mansions, their lofts, and as a whole presents a rich, multi-textured portrait of what it means to make a home in the world's most varied and powerful city.
Constance Rosenblum, most recently author of the Habitats column published in the Real Estate section The New York Times, was the longtime editor of Times's City section and a former editor of the paper's Arts and Leisure section. She is the author of Boulevard of Dreams: Heady Times, Heartbreak and Hope along the Grand Concourse in the Bronx.
Constance was joined in conversation with Boris Fishman, a subject of one of her Habitats profiles, who is also the author of the novel A Replacement Life, forthcoming from HarperCollins in June 2014.
Click here to listen to the program
December 10, 2013 6:30PM-8PM

Phyllis Lambert Book Talk
BUILDING SEAGRAM
(Yale University Press; April 2013)
On December 10, Phyllis Lambert will discuss her book Building Seagram, published by Yale University Press. Her illustrated talk will be followed by a dialogue with Museum Director Carol Willis.
Considered one of the greatest icons of twentieth-century architecture, the Seagram Building was commissioned by Samuel Bronfman, founder of the Canadian distillery dynasty Seagram. Bronfman's daughter Phyllis was twenty-seven when she took over the search for the project's architect and chose Mies van der Rohe (1886–1969), a pioneering modern master of what he termed "skin and bones" architecture.
Building Seagram is a comprehensive personal and scholarly history of a major building and its architectural, cultural, and urban legacies. Lambert makes use of previously unpublished personal archives, company correspondence, and photographs to to tell the ultimate insider's view of the debates, resolutions, and unknown dramas of the building's construction, as well as its crucial role in the history of modern art and architectural culture.
Phyllis Lambert is the founding director of the Canadian Centre for Architecture in Montreal. A licensed architect, she has contributed essays to numerous books and is the subject of the 2007 documentary film "Citizen Lambert: Joan of Architecture."
Reservation priority for this program will be given to members of the Museum.
Not a member? Become a Museum member today!
Click here to listen to the program
November 19, 2013 6:30PM-8PM

Erica Stoller Book Talk
LOOKING TWICE: UNDERSTANDING URBAN CONSTRUCTION THROUGH PHOTOGRAPHS
(Yale University Press; December 2012)
Ezra Stoller Photographer, the book by Nina Rappaport and Erica Stoller, considers the scope of work by Stoller, known as the dean of American architectural photographers. His iconic photographs of 20th-century architectural masterpieces, such as Frank Lloyd Wright's Fallingwater and Mies van der Rohe's Seagram Building, are often cited in aiding the rise of modernism in America. Stoller (1915–2004) elevated architectural photography to an art form, capturing the mood of numerous buildings in their best light.
On November 19, Erica Stoller will take a close look at rarely-seen images of models, construction and final views made in the '50s and '60s of the most important Modern buildings along Park Avenue and other New York City sites. Looking beyond the content, one can begin to understand the photographer's decisions about where, when and how the images were made.
Erica Stoller is director of Esto, the photographic agency founded by Ezra Stoller. She is the co-author with Nina Rappaport of Ezra Stoller, Photographer.
Click here to listen to the program
November 13 and 20; December 4 and 18, 2013 3:00PM

SKY HIGH & the logic of luxury: Curator's Tour
Director and Curator Carol Willis conducted a tour of the current exhibit SKY HIGH & the logic of luxury.
October 29, 2013 6:30PM-8PM

Matthew Gordon Lasner Book Talk
HIGH LIFE: CONDO LIVING IN THE SUBURBAN CENTURY
(Yale University Press; October 2012)
Today, one in five homeowners in American cities and suburbs lives in a multifamily home rather than a single-family dwelling. As the American dream evolves, precipitated by declining real estate prices and a renewed interest in city living, many predict that condos will become the predominant form of housing in the 21st century. In this unprecedented study Matthew Gordon Lasner explores the history of co-owned multifamily housing in the United States, from New York City's first co-op, in 1881, to contemporary condo and townhouse complexes coast to coast. Lasner explains the complicated social, economic, and political factors that have increased demand for this way of living, situating the trend within the larger housing market and broad shifts in residential architecture. He contrasts the prevalence and popularity of condos, townhouses, and other privately governed communities with their ambiguous economic, legal, and social standing, as well as their striking absence from urban and architectural history.
Matthew Gordon Lasner is assistant professor of urban affairs and planning at Hunter College.
Click here to listen to the program
September 11, 2013 3:00PM

9/11 Gallery Talk
On the 12th anniversary of the 9/11 attacks, director and curator Carol Willis gave a gallery talk in the World Trade Center permanent exhibitions.
September 5, 2013 3:00PM and September 12, 2013 1:00PM
1411 Broadway, corner of 40th St.

Urban Fabric 2: Curator's Tour
Director and Curator Carol Willis conducted a tour of the current exhibit Urban Fabric 2. This event was free and open to the public.
August 21 and September 4, 2013 3:00PM

Woolworth Building @ 100: Curator's Tour
Director and Curator Carol Willis conducted a tour of the current exhibit The Woolworth Building @ 100.
July 24, 2013 6:30PM-8PM

Marguerite Holloway Book Talk
THE MEASURE OF MANHATTAN: THE TUMULTUOUS CAREER AND SURPRISING LEGACY OF JOHN RANDEL, JR., CARTOGRAPHER, SURVEYOR, INVENTOR
(W. W. Norton & Company; February 2013)
John Randel Jr. (1787-1865) was an eccentric and flamboyant 19th-century surveyor who plotted Manhattan's famous defining grid, the 1811 Commissioners' Plan. Unearthing Randel's engrossing and dramatic life story for the first time, Marguerite Holloway's eye-opening biography resurrects this unheralded pioneer of American engineering and mapmaking.The Measure of Manhattan illuminates the ways in which surveying and cartography change the ground beneath our feet. Bringing Randel's story into the present, Holloway travels with contemporary surveyors and scientists trying to envision Manhattan as a wild island once again.
Marguerite Holloway, the director of Science and Environmental Journalism at Columbia University, has written for Scientific American, Discover, the New York Times, Natural History, and Wired
July 10, 2013 3:00PM

Woolworth Building @ 100: Curator's Tour
Director and Curator Carol Willis conducted a tour of the current exhibit The Woolworth Building @ 100.
June 26, 2013 6:30PM-8PM

David Anderson Book Talk
ON WALL STREET: ARCHITECTURAL PHOTOGRAPHS OF LOWER MANHATTAN, 1980–2000
(George F. Thompson Publishing; January 2013)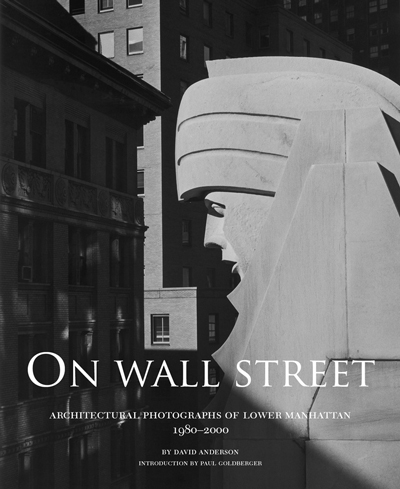 During the late 1970s and early 1980s, as big glass and steel boxes rose across the city, photographer David Anderson dedicated himself to a project to document Wall Street's classic architecture. Avoiding the focus on people, traffic, and street life, he concentrates attention on architectural details or certain profiles to reveal built form, energy, and a larger sense of place within the city's urban fabric.
Architectural historian Gail Fenske observes: "David Anderson's poignant photographs capture the coldness, power, and impregnability of the mythical Wall Street. Devoid of the flux of street movement and crowds, the monuments speak. Creatures keep watch, frozen in stone, while surprising traces of decay and delicate detail suggest the contingency, even frailty, of human existence. Paul Goldberger's masterful introduction guides us as well in seeing and appreciating this historic citadel of American finance."
David Anderson is an architectural photographer who was born and raised in Lincoln, Nebraska. He moved to New York City at a young age, beginning his photographic career at the Daily News. He served in the U.S. Army as a cameraman, and from 1969-1983, he worked as a cinematographer, specializing in commercials and documentaries. He now lives in the Hudson River Valley.
Click here to listen to the program
June 12 and 26, 2013 3:00PM

Woolworth Building @ 100: Curator's Tour
Director and Curator Carol Willis conducted a tour of the current exhibit The Woolworth Building @ 100.
June 14, 2013 1PM-5PM

Medieval or Modern?
WOOLWORTH BUILDING CENTENNIAL
In conjunction with the current exhibition The Woolworth Building @ 100, the Skyscraper Museum presented an afternoon of illustrated talks, inquiry, and dialogue inspired by the centennial of New York City's great Gothic tower, "The Cathedral of Commerce."
Our distinguished speakers included Mary Beth Betts, Gail Fenske, Joanna Merwood-Salibury, Kevin Murphy, Dietrich Neumann, Suzanne Stephens, and Mary Woods.
The program took place in the rear lobby arcade of the Woolworth Building.
The program was presented with the generous support of ELISE JAFFE + JEFFREY BROWN.
The Skyscraper Museum offered 2.5 CEUs for AIA Members for this program.
Click here for a video stream archive of the symposium.
MAY 15, 6:30-8PM

DONALD FRIEDMAN LECTURE
The Woolworth Building: Engineering Height

Plan of the Woolworth Building Foundation Wind-bracing Diagram. Reproduced from American Architect, 103, March 26, 1913.
The 792-foot Woolworth Building doubled the height of the tallest skyscraper of 1900, the neighboring Park Row Building, and surpassed the 1908 SInger Building by 180 feet. The rapid rise in height, from Park Row, to Singer, to the 700-foot Metropolitan Life Tower in 1909, reflects the arrival of mature steel-frame technology.
G