The Skyscraper Museum is devoted to the study of high-rise building, past, present, and future. The Museum explores tall buildings as objects of design, products of technology, sites of construction, investments in real estate, and places of work and residence. This site will look better in a browser that supports web standards, but it is accessible to any browser or Internet device.
---
Located in New York City, the world's first and foremost vertical metropolis, The Skyscraper Museum celebrates the City's rich architectural heritage and examines the historical forces and individuals that have shaped its successive skylines. Through exhibitions, programs and publications, the Museum explores tall buildings as objects of design, products of technology, sites of construction, investments in real estate, and places of work and residence. For a description of the gallery and for photos of the space, please visit our Photo Slideshows page.
EASTER WEEKEND SCHEDULE:
The Museum will be open on Saturday and Sunday, April 4 and 5.
The Skyscraper Museum is located in lower Manhattan's Battery Park City at 39 Battery Place. Museum hours are 12-6 PM, Wednesday-Sunday.
General admission is $5, $2.50 for students and seniors. Click here for directions to the Museum.
Call 212.968.1961 for information on upcoming lectures, exhibitions, walking tours, and membership. Subscribe to our newsletter by emailing programs[at]skyscraper[dot]org.
CURRENT EXHIBITION
February 25 through September 13, 2015.
Distinctive tops that add extra height to high-rises have been characteristic of New York skyscrapers from the first tall office buildings in the 1870s. The word skyscraper, after all, evokes both aerial height and a slender silhouette. The romance of Manhattan's towers has been the inspiration and touchstone for a worldwide surge of signature tops.

TEN TOPS focuses on a group of the world's tallest buildings: 100 stories and higher. TEN TOPS peers into their uppermost floors and analyzes the architectural features they share, including observation decks, luxury hotels and restaurants, distinctive crowns and night illumination, as well as the engineering and construction challenges of erecting such complex and astonishing structures.
TEN TOPS is sponsored by Oldcastle Building Envelope.
Click here for details.

PAST EXHIBITIONS

Click here to view past exhibitions including SKY HIGH & the logic of luxury
and TIMES SQUARE, 1984 The Postmodern Moment
Tuesday, April 7, 2015 6:30-8 pm

Marta Gutman Book Talk
A CITY FOR CHILDREN:
WOMEN, ARCHITECTURE, AND THE CHARITABLE LANDSCAPES
OF OAKLAND, 1850-1950
University of Chicago Press, 2014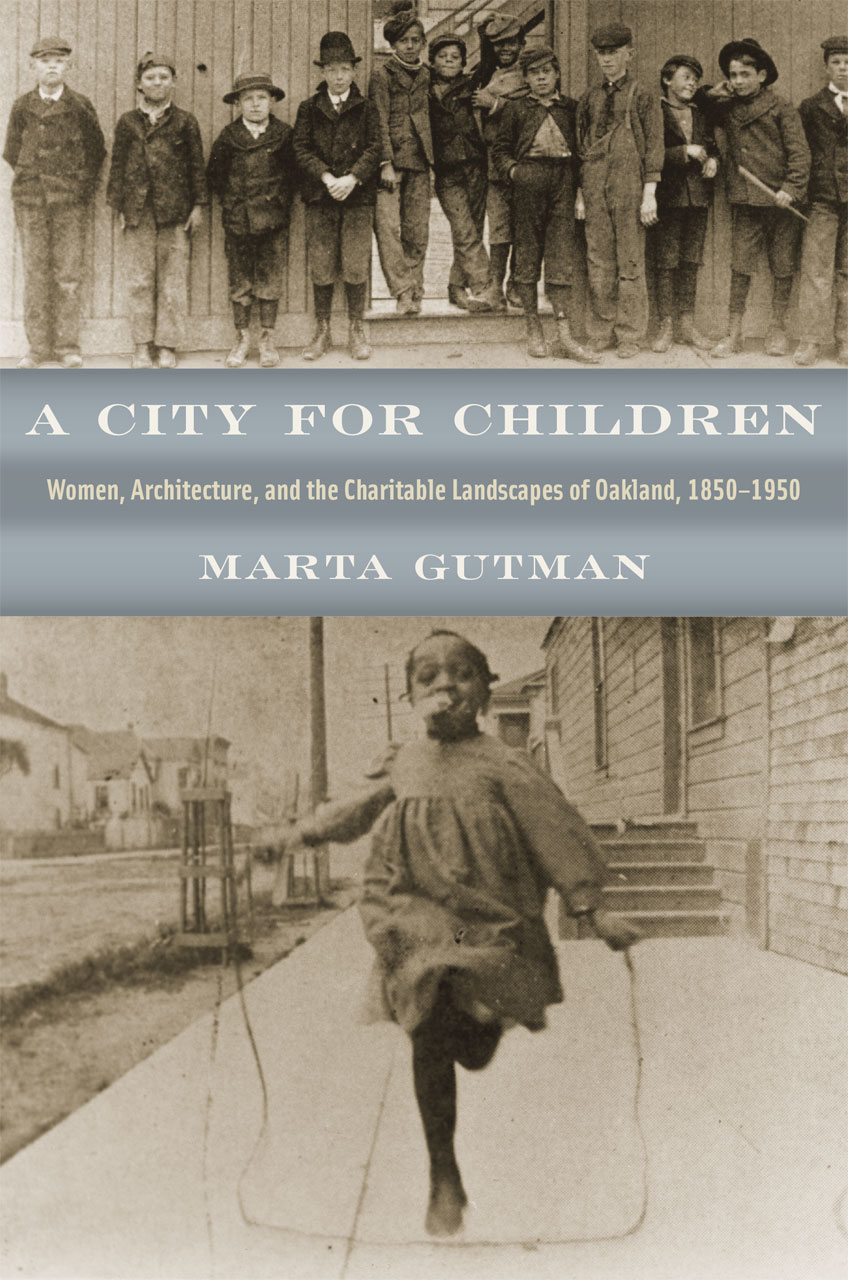 In her path-breaking study of everyday architecture and 19th- and early 20th-century urban reformers who were women, Marta Gutman focuses on the use and adaptive reuse of everyday buildings in Oakland, California, to make the city a better place for children. She explores the ways in which women turned private houses in Oakland into orphanages, kindergartens, settlement houses, and day care centers, and in the process built the charitable landscape. These urban transformations created a network of places critical for the betterment of children, families, and public life. Spanning one hundred years of history, A City for Children provides a compelling model for building urban institutions and demonstrates the central role children, women, charity, and the built environment play in our understanding of modern cities.
Marta Gutman is associate professor of architectural and urban history at the Spitzer School of Architecture, City College of New York and visiting professor of art history at the Graduate Center, City College of New York, as well as an editor for Designing Modern Childhoods. She is a licensed architect.
All guests must RSVP to programs[at]skyscraper[dot]org to assure admittance to the event. Please be aware that reservation priority is given to Members of The Skyscraper Museum. Not a member? Become a Museum member today!


Click here for more upcoming programs.


---
UPCOMING FAMILY PROGRAMS
ELEVATOR CONSTRUCTION
April 4, 2015
10:30 – 11:45 AM

There would be no skyscrapers without elevators! One of several important inventions that make tall buildings possible, elevators now allow skyscrapers to rise higher than ever before. After learning the history of the hoists and how elevators work, kids will build their machine out of cardboard and give it a test run. Ages 7+.
RSVP required
.
Click here for more upcoming Family Programs.


---
JOIN OR MAKE A DONATION TO THE SKYSCRAPER MUSEUM
---
All galleries and facilities are wheelchair accessible.
The Museum is a participating member of the Downtown Culture Pass.
Find the Skyscraper Museum in the FREE lower Manhattan CultureNOW iPhone app, featuring 80 podcasts and 6 self guided tours.
The Skyscraper Museum supports the NYC Landmarks50 Alliance